Print is dead. Swallowed up by the ubiquity of the Internet. Or is it?
Yes, the emergence of the Internet has had a dramatic effect on the way we perceive and digest information. For many, the sheer speed and convenience of obtaining information through the internet is proof that print is either dead or dying.
And yes, this has been particularly pronounced when it comes to magazines and newspapers. Many have had to reinvent themselves online thanks to the trend of marketers who started frantically allocating substantial portions of their advertising budget to the net.
But despite the doomsday-like talk, print still has its place.
So if you're starting a small business thinking you can solely rely on email and web pages, you should be careful.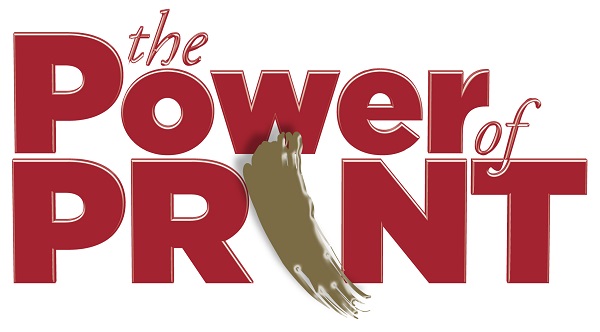 The internet is for instant gratification and quick fixes
A recent Pew Internet study suggested that the internet has a reputation for providing "instant gratification and quick fixes" which can create a "loss of patience and a lack of deep thinking".
It shouldn't come as a surprise then that an Adobe study found that 64% of people think of online advertisements as "annoying". After all, encountering adverts is not part of any user's search intent and they're bound to get in the way.
With research citing that internet users want immediate results to their queries, unrelated digital communications could be regarded as just another transitory piece of data to be ignored.
The marketer's migration is a gift in the form of a print void
Since the rising power of the internet and social media, more brands have completely migrated their advertising campaigns to the web. It's not difficult to understand the thought process behind this decision: advertising on the internet is cost effective, fast, easier to gauge and reaches more people. In short, it's more bang for your buck, right? Not quite.
In the same study by Adobe, Click Here: The State of Online Advertising, it appears that advertisements on the web and social media are failing to have the desired effect. In fact, they are performing far worse than advertising in print format.
As the majority of large businesses continue to target users through online advertising and social media, they will be producing ever-fewer printed materials.
This is a missed opportunity and great gift to the startup. Printed media remains a great way of targeting audiences effectively, like a flier in a specialist magazine for example or a leaflet delivered personally to a place of work. Even if it's not read immediately, it will have a longer shelf life than the digital equivalent and has a potential pass-along audience too.
Here the quality of the printed material will matter significantly. "A beautifully designed flyer, printed on quality paper sets itself apart from other marketing. It becomes a piece of art. People hang on to it not just because it contains useful information, but because it is a design object," explains Egle Vilutyte, head designer at London-based The Business Printers.
According to their director, Amritpal Dhangal, the last few years has seen an influx of companies looking for carefully nuanced approaches to printed marketing materials that will really resonate with their audiences.
It's also important to remember that printed materials don't need to be limited to handheld dimensions. For startups promoting their services through an event or exhibition, the beautiful designs from your flyers, leaflets or posters can be given a new lease on life with stage design.
Technical event production experts Perception Live have set the stage for all kinds of promotional events utilising printed materials. Having spent years in the AV and event production industry, they've worked with fashion, drinks and automobile brands and have always maintained that unique printed display stands and banners are essential for building brand awareness.
Real Mail not Email
Attempting to catch the interest of a casual internet user is difficult. You can try to target specific demographics through emails, but you have to bear in mind that most people are pursuing a goal that has nothing to do with your advert. Thus, they are likely to ignore it.
If you think the same mentality is true for print, think again.
Recent research carried out by the Royal Mail shows that consumers have clear preferences between mail and email. The findings? Print is more likely to connect with people.
With a massive increase of 31% since 2007, 57% of respondents said that mail from businesses made them feel like they were valued. It is not unimaginable that the huge increase is due to the onslaught of online advertising they are now facing.
Other important findings included:
Print gets read – In another significant increase since 2007 (22%), 56% of people said they actually read mail from businesses.
Print captures attention – 56% of people also said that mail captured their attention but only 31% said the same about email.
Print can enforce your brand – 55% of people said that mail helps to create a brand impression compared to the 25% who believed that email did.
The power of following up real mail with email – with 51% of people preferring a combination of both mail and emails, it has also been discovered that complementing mail with digital marketing campaigns is 27% more likely to yield a high sales performance.
Bearing the last point in mind, the design of your physical and digital media could be key to capturing your audience. If you can maintain a unique and consistent aesthetic across both, you're more likely to be remembered when you follow up.
Finding a company to provide you with a bold but appealing design for multiple platforms isn't difficult or expensive. Print companies like Ro-am Printing Solutions Ltd have evolved with digital trends and can create your website, leaflets and posters with a signature style for your brand.
Despite the measurable, active medium of the internet posing a real allure for those wanting to connect with as many people as possible, it should be remembered that the 2000 year old medium of paper has enjoyed a longevity that the web has not yet been able to claim.