By nature, screen capture is the perfect way to record video footage of your desktop. Seeing as it will capture the video footage directly from your screen, you can use it to record your desktop along with any open windows too.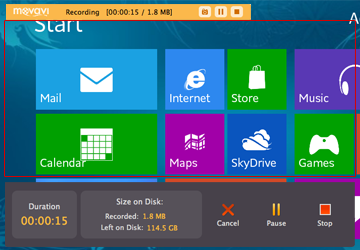 Of course, the trick to recording a good video of your desktop is to decide exactly what it is you want to record. Are you trying to record video of a particular software or app for a bug report? Or are you trying to create a video guide to show others how to perform a particular task?
It is also important that the software you use can provide you with full control over the parameters of your recording, so that you're able to obtain the best results. That is part of what makes Movavi Screen Capture Studio an excellent choice, and the fact that it is designed to be intuitive and straightforward just cements its position further.
To use Movavi Screen Capture Studio as a desktop recording software, all that you need to do is:
Set the capture frame to encompass the area that you want to record on your desktop by resizing the window or using one of the presets.
Set the audio source to capture the system audio or audio from some other device such as a microphone.
Click 'REC' to start recording.
Stop the recording by clicking 'Stop' or by setting the timer to automatically stop it after a certain duration.
Save the recording by clicking 'Save'.
By following those steps, you should be able to record the footage that you need. If you want you could even set up some of the other recording parameters to change the frame rate, capture keyboard and mouse actions, and so on. However, the true strength of Movavi Screen Capture Studio lies in the fact that it also includes numerous other video editing features that will help you to improve your video in various ways.
It would definitely be a good idea to take advantage of these features. By using them you will be able to trim out unnecessary footage, merge video clips together, enhance the video quality, add audio tracks, apply special effects and filters, insert customizable text, and much more.
With a little bit of experimentation, you'll find that you're able to use Movavi Screen Capture Studio to capture high quality videos of your desktop and produce professional-looking videos from them. Seeing as the software itself is so intuitive, it won't be too difficult for you to master its features – and for the most part all you'll need is a few minutes to figure them out.