There seem to be millions of WordPress themes floating around the web, however not all of them have social media integration. Whether you are looking for social media icons in your header bar or social feeds embedded within your site, finding the right WordPress theme can really grow your social media presence. Here are the top 20 Social Media WordPress Themes: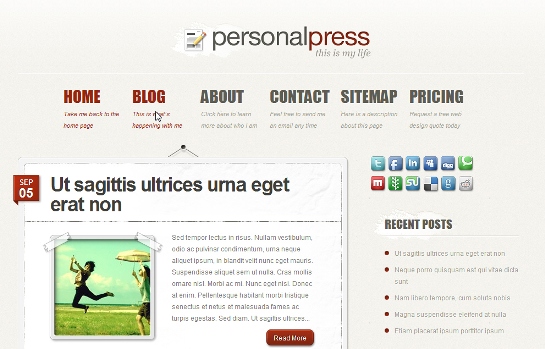 One of my personal faves, Personal Press is a personal blog template. A simple and clean site with little distractions and 12 social media icons located in the side bar.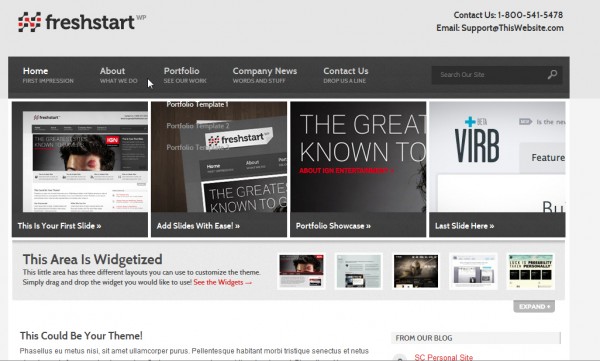 Fresh Start is a unique template with 4 customizable slider icons, 9 Custom Widgets, Social Media Icons, Random Portfolio Item, Blog Archives, and news. It also has Twitter and Flickr streams and could be used for everything from a personal site to a corporate website.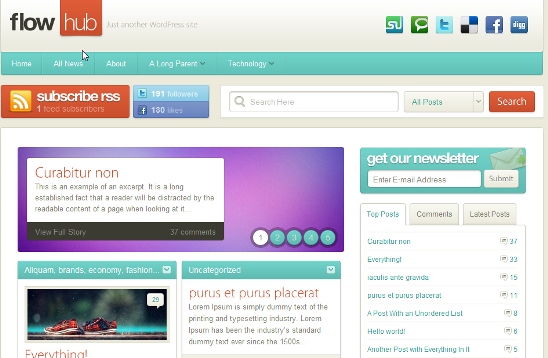 Flow Hub is almost as comprehensive a social media template as you will find. Displaying in your header, you have an icon showing your sites Facebook Likes and Twitter Followers. You also have Technorati, StumbleUpon, Digg, Twitter, Facebook, and Delicious icons conveniently located in your header.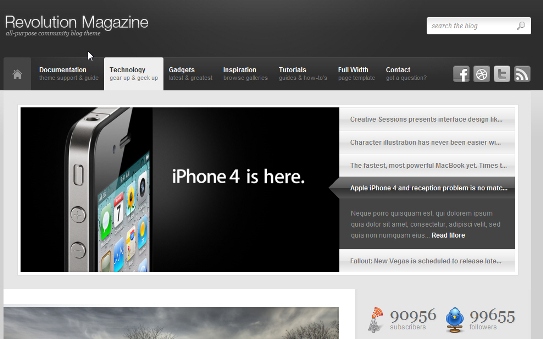 A corporate website template that has 3 Custom Widgets & 2 widgetized areas. Equipped with social sharing "ready to share" links, as well as a unique Twitter follower and Blog counter icon.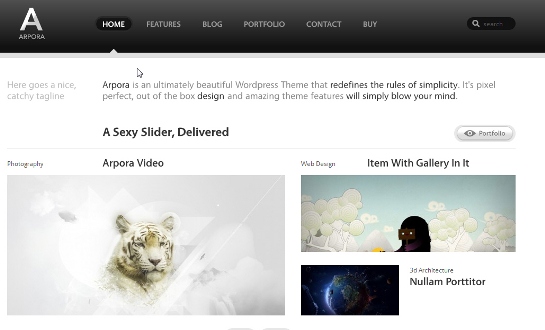 A graphically intense WordPress template, Arpora "redefines the rules of simplicity." Arpora boasts about it's functionality with video, offering a beautiful 1080p video box at the bottom of your template.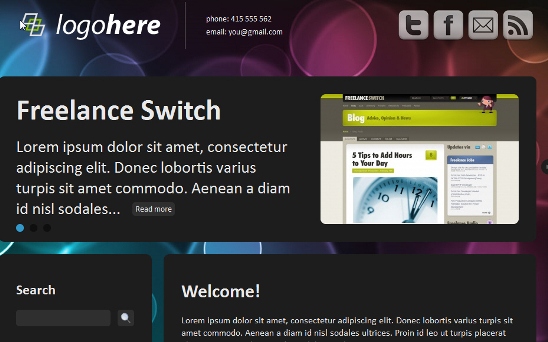 Dark N' Clean definitely lives up to it's name, it is a dark and clean template that has a myriad of additional social features. This template is compatabile with every browser and gives you an optional twitter feed in your sidebar. A TableSorter organizes your layouts and social networking icons in the header are simple, dark, and clean!
At Social Press, "Making Connections Matters." Truly a theme for everybody, it boasts sexy bookmarks, Twitter, and Flickr integration.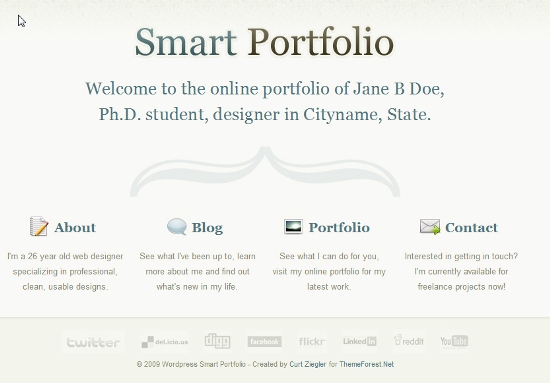 Another one of my personal favorites, "Smart Portfolio" is a wonderful professional and personal blog site. Smart Portfolio allows you to hide/show/edit the social networking icons in the footer as well as editing your logos and tagline. Proof that sometimes, simple design is simply better.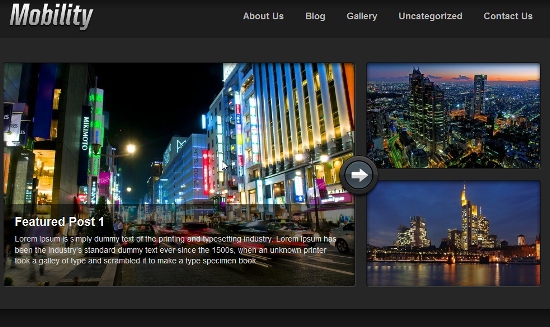 Mobility is an Ipad-ready WordPress theme that has slider bars, drag and drop galleries and icons to share each post. A flexible theme, that simplifies creating and editing every facet of your site from your homepage slider to social links.
Mobile: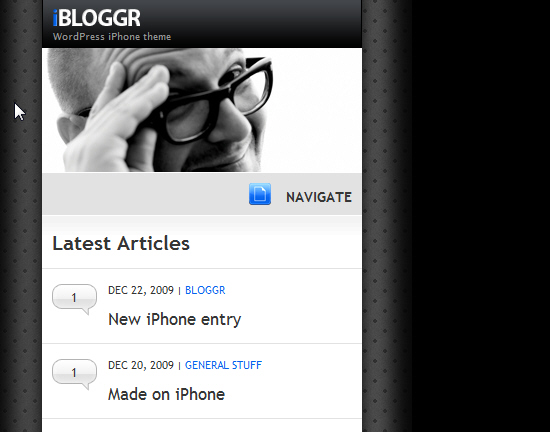 iBloggr is a mobile theme that can easily be turned into a Blog, Flickr, Twitter mashup. A simple site that is as easy to manage as it is to view. In addition to this, a built-in system can control your whole site from your iPhone!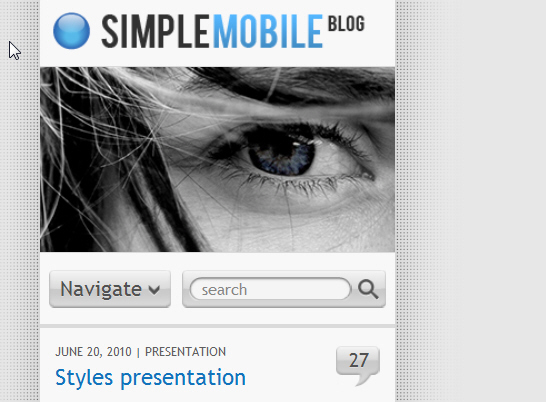 SimpleMobileis a mobile blog theme. 8 color schemes, psd layout customizations, and JavaScript Twitter implementation are just a few of the features included on Simple Mobile. Not to mention 43 different social media icons and a Flickr photostream!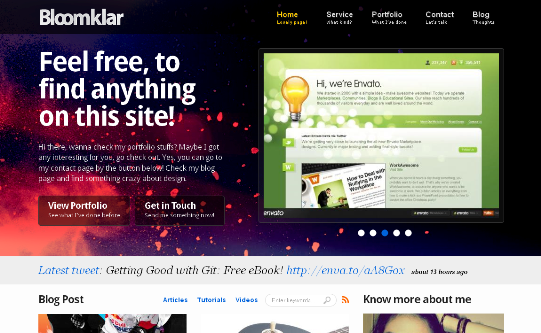 Bloomklar is 3 column templates with homepage slider and supporting embedded video. The coolest feature of this template is the Twitter "Latest Tweet" and Facebook, Dribble, YouTube, and Flickr icons.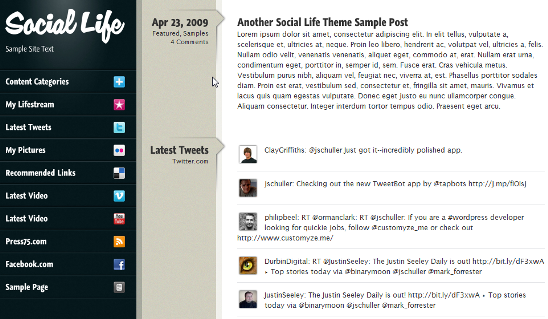 Great for a personal website or portfolio site. This theme allows your social streams to show up in the sidebar. It allows up you to add Flickr photos, Vimeo Videos, and Latest Tweets, giving the user links to your social media sites, and you a place to keep track of it all!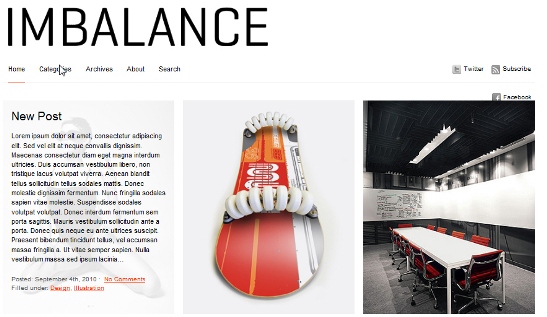 Imbalance. Clean. Minimalist theme.  Subtle but noticeable social media integration. No live twitter feed here, but a twitter widget is required for the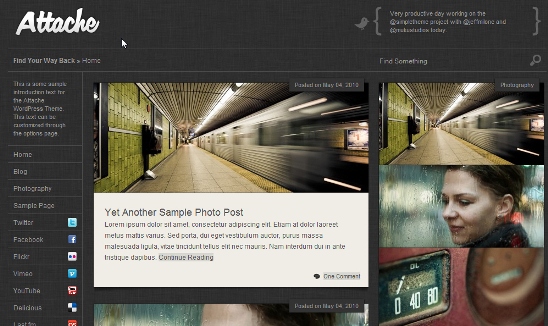 Attache is made by the same creator of "The Social Life," Jason Schuller. He has a myriad of themes that are similar to this however the social sidebar on the left side is something I haven't seen in any other WordPress template and it is truly revolutionary.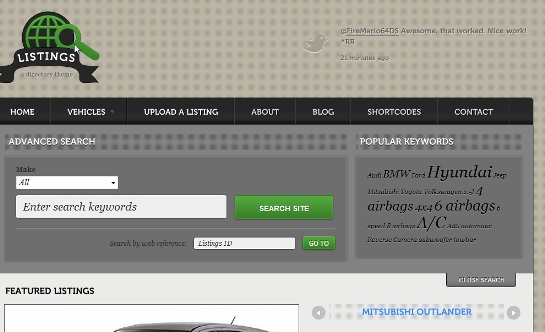 Listings are used in the example as car showcase. However, if your business has multiple products within the same category this template would fit you. The feature I liked most was the twitter feed in the header bar.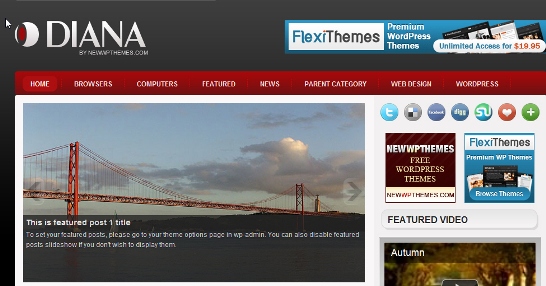 Optimized for social media and SEO, Diana is great template for businesses. There are 7 Social media icons in the sidebar, including the rarely seen StumbleUpon, and two 125×125 banner boxes below. Not to mention the ability to upload your YouTube video to the "Featured Video" box, you will be sharing media in no time!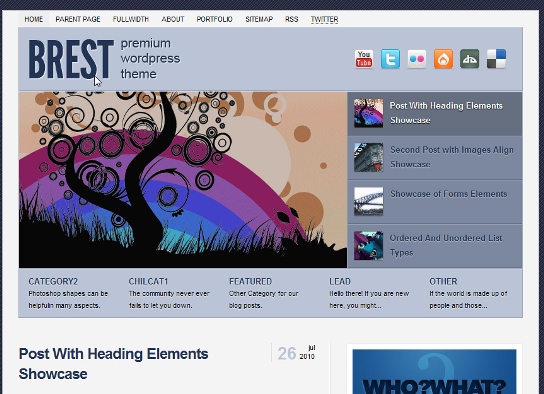 Brestis another clean template, with YouTube, Twitter, Flickr, Deviant Art & Digg Icons, it makes for a perfect graphic design or art business template.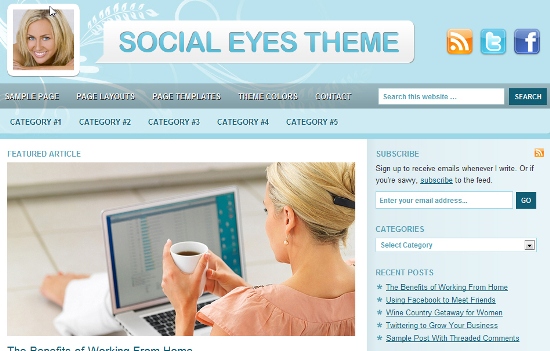 Social Eyes is equipped with a large "Featured Article" image and very visible social media icons. A template that would be great for a female oriented blog also puts your latest tweets in the footer.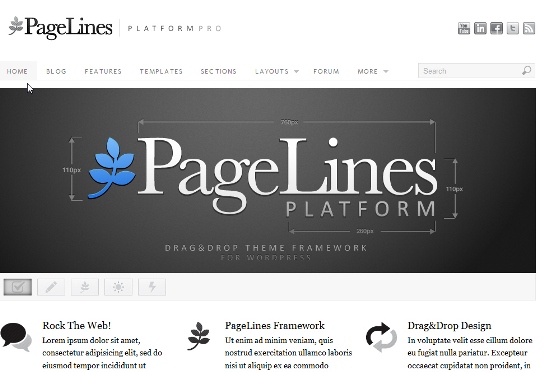 PageLines is not your typical WordPress template. It gives you the ability to drag and drop web elements to create your own theme. The template doesn't have the most comprehensive social media integration, but are able to customize the template around your needs. It also has a visual blog feature and social icons.
Conclusion
Whether you are looking to link your social media efforts to your website or vice versa, these themes should be able to help you increase exposure without hiring additional IT resources.
Matt Krautstrunk is an expert writer on payroll services based in San Diego, California. He writes extensively for an online resource that provides expert advice on purchasing and outsourcing decisions for small business owners and entrepreneurs such payroll processing at Resource Nation. You can follow him on Twitter @MattKrautstrunk