Back in the day, getting around on the Internet meant contending with a web browser that could be difficult to use. Now that the more modern web browsers have matured, it's time to look at the top five leaders in user-friendly web browsing.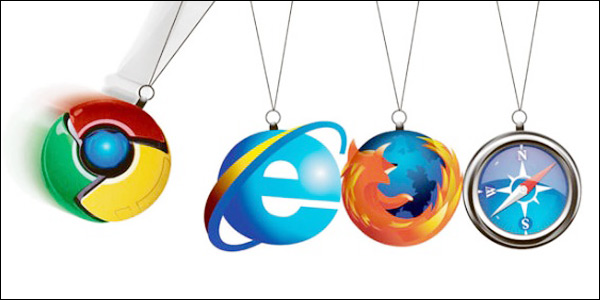 Firefox
Offered by the non-profit organization Mozilla, Firefox gives its users easy ways to enhance their browsing experience. If you migrate from another web browser, you can import your bookmarks and passwords. Opening multiple tabs is a cinch for Firefox and it's relatively fast, too. If you want to use Firefox on multiple computers or devices, you can sync between them. A mobile version of Firefox is available for Android.
Under the Tools section, users can look for Add-ons to customize Firefox. These Add-ons can change the browser's  theme, add additional search options and more. Add-ons can be downloaded and added to the browser in a minimum amount of time.
In the Options section, users can select a master password and tell Firefox to remember their passwords. This section allows users to set privacy and security options as well.
Chrome
Another user-friendly web browser is Chrome. It's made by Google and it gives users a speedy way to visit their favorite websites. Like Firefox, this browser offers tabbed browsing and ways to protect user privacy. Customizing Chrome with apps, extensions and themes is a large part of the browser's appeal. These features are available through the Chrome Web Store.
If you're already a Google user thanks to GMail, you can sign into Chrome. This will allow you to sync your bookmarks and passwords between computers and devices. You'll also be signed into your Google account in case you want to check your mail or drop by YouTube or Google Play. Mobile versions of Chrome are available for Android and iOS.
Internet Explorer
Many Windows users are already familiar with Internet Explorer. Its SmartScreen Filter offers protection from online threats. The New Tab page lets users go to a website without a lot of visual clutter.
Add-ons can assist you with adding new search providers and toolbars. You can find add-ons to help with shopping, blogging and more. There are lots of choices in the Internet Explorer Gallery.
Safari
Mac users will be fans of Apple's Safari. The latest version of this web browser has a Smart Search Field, so users can get to their web pages faster. Tab View lets users switch between tabs quickly. For users who also have iPhones and iPads, iCloud Tabs is a must-have feature. This allows you to view your web pages seamlessly. The Share button encourages users to post their favorite links to Facebook and Twitter. Another great feature is the Offline Reading List, which stores items for later viewing.
Opera
Opera is a web browser that's known for its safety and speed. If you happen to be on a slow connection, Opera Turbo can improve your browser's speed. Keep tabs organized the way you want with the Tab stacking ability. Mouse gestures assist users with quicker browsing and an Extensions Catalog allows for customization. Sign in and you'll be able to synchronize with your phone or tablet using Opera Link.
Any of these web browsers can benefit new and experienced Internet users. Select one of them for user-friendly web browsing today.
Author Bio
Kathleen Martins is a blogger for TorchBrowser online torrent downloader and online youtube video downloader,offering many benefits you do not want to be missing out on!