In 2022, many have observed that "luck" is something of a loaded term.
The last three years have seemed powerfully unlucky to a lot of people. But for John Lasseter and his all-star team at Skydance Animation, that did not deter them from creating a new magical world to delight viewers of all ages—Luck, debuting on Apple TV+ globally on Friday, August 5. Luck was one of two of Lasseter's full-length features Apple picked up from their original home at Paramount, along with Spellbound.
People who think they have had a hard three years might feel better after they watch the story of Luck's protagonist Sam, the unluckiest woman in the fantasy world.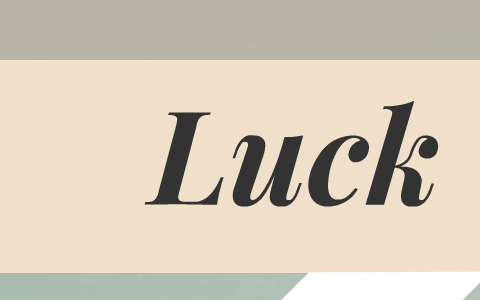 The Story of 'Luck' 
Feature-length, computer-animated Luck takes place in the Land of Luck, a kingdom balancing two fundamental forces, Good Luck and Bad Luck. Luck is so fundamental to the Land of Luck that its two towns are known as Good Luck and Bad Luck.
As narrator Bob, a black cat with a Scottish accent, explains, the animals and magical creatures who inhabit the Land of Luck work behind the scenes to create those lucky and unlucky moments that make up every moment of everyone's everyday life. There is the Good Luck team that works on the jammy kind of luck that makes you feel like a million bucks—or at least a hundred bucks. And there is also the Bad Luck team that works on the not-so-jammy kind of luck. Bob just says that the Bad Luck team loves what they do.
Humans are a complicated lot, Black Cat Bob says, and that's why things worked so smoothly in the Land of Luck: no human had ever set foot in their kingdom. That is, until the unluckiest woman in the world, Sam (played by Eva Noblezada), arrives at the door, asking "Where am I?"
Sam evades the chief of security (played by Whoopi Goldberg) to attempt to meet with the CEO of Good Luck, The Dragon (played by Jane Fonda). Jane Fonda's character always believed that good luck was the key to a good life. However, as she realizes good luck isn't everything in life, she solves Sam's problems and mends some rifts in the Kingdom.
'Luck' Illustrates the Power of Creating Your Own Luck
Luck was originally part of a multi-year deal between Paramount Pictures and Ilion Animation Studios. It was later picked up by Apple+ TV, about the same time Skydance Animation secured the services of celebrated producer John Lasseter.
Luck was scheduled for release in 2021, but then COVID hit. John Lasseter and his team had to work through never-before-seen issues to schedule voice recording and get the animation done. Technological advances—Lasseter's special gift—enabled animators to work from home, so the production was only half a year behind schedule.
'Luck's' All-Star Cast
Successful animated films have one recognizable voice that draws in viewers by helping them relate to the story. Luck has an all-star cast with some all-star voice actors along with some of the most recognizable actors of all time.
Whoopi Goldberg is the Chief of Security of the Kingdom of Luck. She plays a character who is gritty and gruff but who has more than a little heart.
Jane Fonda stars as a giant, jewel-clad pink dragon who works as the CEO of Good Luck. As the oldest inhabitant of the town of Good Luck, she is its luckiest inhabitant.
Eva Noblezada plays Sam, the unluckiest person in the world. She hopes to speak with The Dragon to turn her luck around. Noblezada made her Broadway debut as Kim in a revival of Miss Saigon and her film debut in Yellow Rose.
Simon Pegg, familiar to many viewers of Shaun of the Dead, plays a black cat who helps Sam find a lucky penny. In the film, he changes the narrative about black cats.
Flula Borg, whose numerous recent roles range from Javelin in The Suicide Squad to DJ Herzogenaurach in Chip 'n Dale: Rescue Rangers to a recurring role in the Pitch Perfect series, voices Jeff the Unicorn. Jeff allocates good and bad luck to humans.
And the inimitable John Ratzenberger gives a nod to Lasseter's Pixar connections in the role of Rootie, a bad luck root and the Mayor of the City of Bad Luck.
Luck has the essential elements for a successful feature-length animated film. It combines award-winning animators, immediately recognizable and talented voice actors, and the world's most innovative streaming platform. Viewers only have to wait until August 5th to see whether the movie has overcome the bad luck of the past few years!