The life of a Freelancer has been made much easier with the arrival of the internet. Sites like Odesk and PeoplePerHour make the process of finding work much easier, and going solo has become more of a viable option; so much so that people are regularly tempted to leave the security of their 9-5 office job to be their own boss.
However, becoming your own boss also means becoming your own accountant (among other things), and when it comes to being paid for your work it's important to make it as easy as possible for the client. It's almost criminal not to accept payments over the internet in this digital day and age, due to the number of intuitive solutions available. We've compiled a list of the most popular methods for accepting online payments, helping you make an informed decision on which one is right for you.
Stripe
Stripe is a newcomer to the online payment scene, and despite being marketed as being 'built for developers', it can be used by a variety of professions and is very simple to implement. Although it does boast seriously impressive functionality to those who know how to use it, thanks to various plugins for popular CMS platforms such as WordPress, you can accept credit card payments through your site within minutes.
The main benefit of Stripe is that you can process payments without having to send clients to a separate site (such as PayPal), and they have worked out how to successfully do this without having to abide by headache inducing PCI compliance.
Their fees are very reasonable, just 2.4% plus 20c for each successful charge, and there are no reoccurring subscription costs.
PayPal
One immediate benefit of PayPal is that it is widely recognised, meaning clients are more than happy to use it with no worries regarding security. This in turn means that you can get paid in a matter of hours rather than days or weeks, and quickly withdraw the funds to your bank account.
PayPal's fees are slightly higher than the average, starting at 3.4% + 20c, but this is variable depending on your monthly sales. Unlike Stripe, you do have to send clients away from your site to process payments on the PayPal website, which can sometimes put people off.
Many people have reported having bad experiences with PayPal, with the payment processing giant often siding with the customer without fully investigating the situation, so be sure to do your homework before adopting it as a payment method.
Square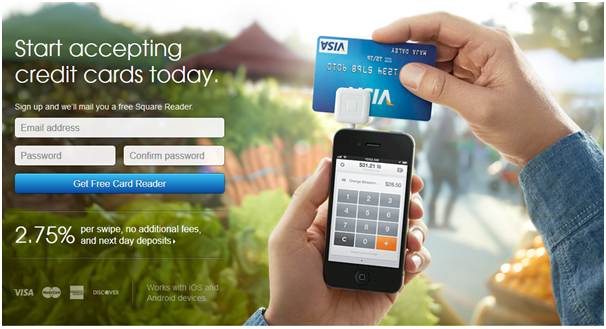 Although not strictly online, Square is very deserving of being included due to its impressive use of new technology to create an effective mobile payment solution. Being able to accept payments in person when meeting with clients may be gimmicky, but when the time calls it is bound to impress.
Using a small secure card reader, which Square send to you for free, you can swipe cards in order to instantly receive payments. It currently only works on iPhones, but there is talk of also branching out to Android and Blackberry.
Swiped payments are deposited directly into your bank account within 1-2 business days, and again they operate on a percentage basis, charging 2.75% per swipe.
Escrow
Escrow is slightly different to the other solutions in this article, in that they essentially act as a middleman. Once you and a client agree on a proposal, the client pays the amount via Escrow.com who holds the money until the work is delivered and the client is happy.
This is a great option when there may be trust issues involved with a new client, for example, if you aren't sure if they have the funds available for the job. If there are any disagreements, Escrow.com boasts a very in depth process of investigation to find out which party is in the wrong and rectify the problem accordingly.
Because of the level of trust that Escrow introduces for both you and the client, their fees are higher than simply accepting payments, ranging from 3-4%.
Xoom
Xoom is a relatively unheard of payment transfer method, but it is essentially an alternative to PayPal with no added bells and whistles. Multiple payment methods are accepted, and they pride themselves on their fast processing of both deposits and withdrawals.
The fees are competitive at a flat $4.99, and exchange rates are locked in once the money has been sent. You can opt to receive updates on the transaction through text and email, and they also boast 24/7 telephone support. Xoom is a no thrills alternative for reviving money online, although some clients may be apprehensive to use a rather unheard of website.