Video campaigns are increasingly becoming a necessity for today's marketers. This is particularly true in the tech industry, where companies need to demonstrate that they're on top of the latest trends. Producing your first marketing video can seem like a daunting task, but a glance at some of the biggest winners in this area proves that compiling an engaging and successful video marketing campaign may actually be easier than you think.
Google: Chromebook for Everyone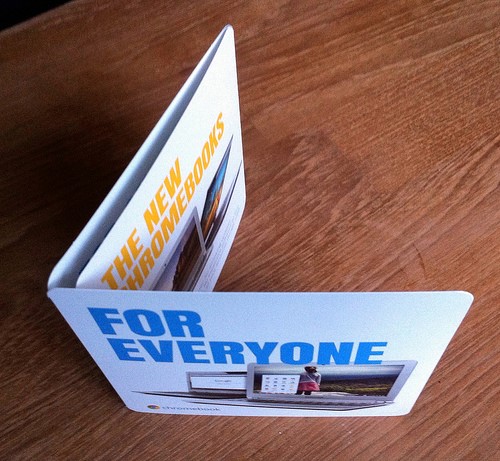 Image via Flickr by fsse8info
It will come as no surprise that Google's Chromebook campaign was sharp, catchy, and right on top of the video marketing trend. To create a campaign that would appeal to everyone, they quite literally complied a marketing video with a little something for every customer. Composed primarily of home videos, it offers an unmistakably personal feel. Add a healthy dose of babies and animals and you have a winning, if somewhat clichéd, combination, reminiscent of one's first marketing video.
GoToMeeting: Meet Executives
GoToMeeting offers video conferencing services, so it only makes sense for its videos to give you the sense that you're enjoying a quiet, personal conversation with each subject. On its main page, GoToMeeting offers a series of brief but engaging videos featuring executives who know and love the platform. Streamlined and straightforward, these videos are everything you want from a service that's designed to be sleek, simple, and intuitive.
Intel and Toshiba: The Power Inside
Intel and Toshiba designed a brilliant marketing campaign that combined video and social media. This engaging approach drew viewers in and invited them to become part of the story themselves. The videos for their "The Power Inside" campaign told an ongoing story in 20-minute bites. Viewers were given the chance to interact with the campaign throughout by deciding the outcome of the storylines and even auditioning to appear in subsequent episodes. This is a prime example of how social media engagement and intriguing videos can go hand-in-hand.
Moz: Whiteboard Friday
The brilliance behind Whiteboard Friday is that it's an ongoing video marketing campaign. Every Friday there's a new installment to look forward to, and loyal viewers dutifully report to catch the latest one. Rather than waiting for a single video to gain traction, Moz has created a series that offers something new every week in easily digestible bites. Videos range from six to 15 minutes in length, with most falling around the eight minute mark. Each addresses a specific topic, offering a welcome bit of information to start the day.
Zynstra: B2B Success
Zynstra created a B2B marketing video that took what could have been a dry topic and made it bright and engaging. Colorful animations and friendly narration come together to create an informative video that captures the viewer's attention from beginning to end, proving that a video doesn't have to be complicated to win.
Video marketing gives you an engaging way to communicate with your audience everywhere from your web page to your social media feed. The right campaign can even spark an ongoing series that will bring customers back again and again. With strong return on investment (ROI) and unlimited potential for flexing your creative muscles, video marketing is a strategy that can take any tech company far.