If you're involved with recruitment, you will have probably noticed that things have been more challenging in recent times, no matter which industry you are targeting. The problem isn't a lack of job openings; 73% of employers are set to take on new staff over the next 12 months, according to Hays' UK Salary and Recruitment Trends 2017 report, and the chart below from PwC is proof that employment is still a big priority for CEOs.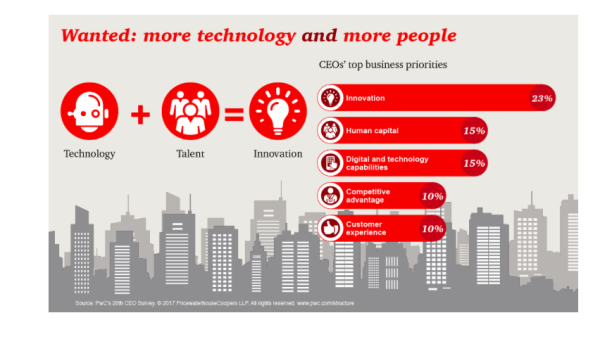 Instead, the issue lies with not being able to find the right candidates. Despite the rise in social media networking sites such as LinkedIn, acquired by Microsoft last year for an eye-watering $26.2 billion, those working in HR are finding it considerably harder make hires. The aforementioned report from Hays notes that 35% of recruiters say they're unable to access the talent they need, a particularly worrying issue considering that the 2017 CEO Survey by PwC found that 77% of CEOs worry that skills shortages could impact their company's growth.
Thankfully, there are solutions available to HR professionals who are in need of better ways to find/reach out to potential new employees. If you are in need of a simpler way to streamline your recruitment process, read on for a guide from Global Database.
Today's Biggest Challenges in Finding Talent
Before we get onto the solutions, let's take a look at the specific challenges that HR professionals are currently up against. Although different industries will of course face different issues at times, the majority of businesses are likely to have experienced (or will experience) these problems in recent times;
Data Inaccuracy – Incorrect data can be extremely detrimental to your recruitment efforts; having to manually validate email addresses or phone numbers thanks to misspellings or outdated details is not only extremely frustrating, it also costs you time and money.
Slow Response Times – Waiting for candidates to get back to you is basically wasted time. Having direct business contact data for potential hires is a great way to guarantee a much quicker response time, but these are tricky to source via traditional methods.
Too Much Competition – According to Hays, 82% of employers agree that competition for well-qualified talent has increased over the last year, something that is further supported by the chart from CIPD below. With so many recruiters vying to win the attentions of the best potential employees, it is incredibly hard to stand out from the crowd.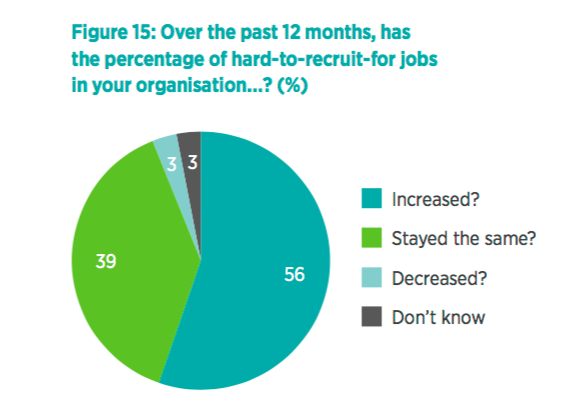 Lack of Background Information – Nowadays there are an abundance of marketplace sites that allow you to connect with freelancers from all over the world. However, determining if those people are actually who they claim to be, and have the credentials and experience that they say can be almost impossible.
Lack of Online Presence – LinkedIn may have now reached over 500 million users, but it is far from a complete resource. Many millions more haven't signed up yet, and those that have often don't have publicly available profiles. Your perfect candidate doesn't necessarily have a website or some form of business social media – you need to turn to other avenues to seek them out.
Too Few Referrals – Although taking referrals for potential employees is often a good way to source talent for more general positions, problems arise when you are recruiting for a more niche role that requires specific experience and skills. Taking on employees that have been recommended by trusted acquaintances is undoubtedly an easy way to work, but clearly it is impossible to rely on others to find the right candidates.
No 100% Trusted Resource – Unlike many other parts of running a business, when it comes to HR there is no go-to resource that is 100% trusted. This means it can be difficult and time-consuming to form a strategy, often with the need to consult multiple sources for each candidate, which can undoubtedly become very time-consuming.
Expensive – According to research from CIPD (and shown in the chart below), nearly half of businesses who use recruitment partners have been using them less in the last 12 months. This could be in part due to the often large costs involved. It can also mean a lot of trial and error finding a partner that's a good fit with your company, and even then you can never be sure whether they have your best interests at heart, or are simply after a quick pay-out.

A New Way to Find the Best People
Research by LinkedIn found that organisations are prioritising more meaningful quality of hire measures in 2017, yet only a third say that they currently have strong methodologies for assessing these measures. Clearly, traditional methods for recruitment are falling behind; particularly in the case of more niche and/or experience-weighted positions. If you're in need of immediate access to the best candidates, Global Database is the perfect one-stop solution; here's why…
Accurate Data – At Global Database we understand how vital correct and up to date contact data is; that's why we're committed to carrying out consistent checks on all of our records, including email validations every 30 days. As a result, we are able to boast of an impressive accuracy rating of 93% – one of the highest in the industry. This is great news for HR professionals as is means candidates are easily reached without having to scour the net to check that you have the right details.
All Bases Covered – With millions of records across 34 verticals worldwide, you can rest assured that we are likely to have information on candidates in your sector. Remember that the best candidates are likely to already be working for someone else, so may not have a LinkedIn account or other forms of business social media. By using Global Database you are able to find and contact top professionals, no matter who they're currently employed by.
Direct Contact Details – All of the phone and email addresses listed in the Global Database directory are direct, so you can reach straight out to potential hires and avoid the hassle of waiting for them to check their social media accounts or an email account that they only log into a few times a week. It also ensures that you save time and resources by not constantly being met by gatekeepers, and you can discuss your job opening in confidence.
Background Information – If you already have a potential candidate in mind, you can easily carry out a quick background check using our directory. By searching just their name or work email address, you can find out the current company they work for, their job title and more. All of this data is updated daily, so you can be sure that you'll never lose track of changes to their records.
Filter Options – Our online platform has more filter options than any similar product, which means you can easily drill down to the specific types of candidates you're looking for. If you're looking for IT professionals you can target countries that are known to have highly trained employees, for example. You can even narrow your search based on companies with a certain annual revenue or a positive credit score.
Sealing the Deal: What to do Next
So now you've got contact details for the best candidates in your niche, what are the best ways to move things along smoothly? Here are some tips to sealing the deal and winning over your new employee:
Cold Call – When it comes to reaching out to potential hires, never underestimate the power of a phone call. Picking up the phone and having a real conversation with someone is much more personal than an email or message via LinkedIn, Facebook or Twitter. Ultimately you need to convince the candidate that they can trust you and that taking the position you're looking to fill is in their best interest, and this is a hard message to convey over written form alone.
Follow Up – This is an important part of the process because it shows that you're serious about the offer. Let's face it, we all like to feel in demand at times, and making the client feel that they are the prime choice for the position is likely to make them feel more curious and interested in learning more.
Keep Them Updated – Follow up with selected talents. Few agencies today are doing this, which is ultimately detrimental to relationships. Even if things don't work out in the end, be honest and upfront about the reasons why; if they're a good candidate you might have another position for them further down the line, so building a good rapport and keeping the line of communication open is always a good idea.
Despite the competitive nature of today's recruitment industry, with a new approach to HR, businesses can benefit from sourcing prime talent before their competitors reach out to them. Global Database is the ideal solution to save time and money; enabling much of the process to be completed in one united platform.
To find out more about how we can help your business, visit us at www.GlobalDatabase.com