Chat rooms are not meant for merely finding new friends and chatting away mundane things with them. If used correctly they can also bring in a lot of traffic to your website.
RumbleTalk is an example which does this very well.
RumbleTalk is a customizable HTML5 social group chat widget. It can be added to any website, group, app, game, blog or forum. It lets you talk from your PC, smartphone and tablet. You can also add videos, images, emotions, and URL's into the chat.
This social engager platform lets you get extra social traffic by letting your website visitors do the work, a work which wouldn't seem like work to them because they just have to chat and call in friends from their social media accounts.
The important features of this tool are discussed below.
Numbers
As they say – numbers can tell a story. RumbleTalk has 2,500,000 monthly chatters; it's used on 210,000 websites, on 7,600 Facebook pages, and 2,200 radio stations. As of writing of this piece RumbleTalk had operated upon 1,355,247,910 chat room messages. I think these numbers should be enough to convince you that RumbleTalk knows what it is doing.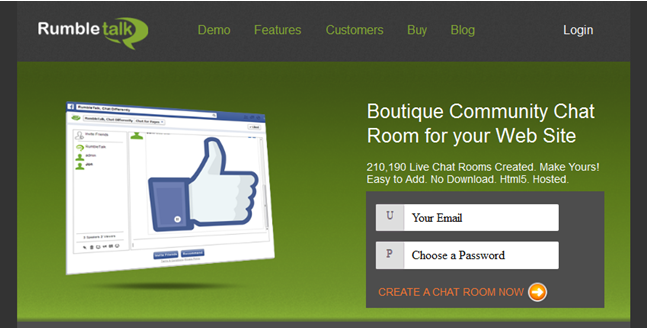 Accessibility controls
RumbleTalk lets you control the access of your audience. You can define the roles and the moderators. As an administrator you will have the option to choose what kind of users will be able to view or chat in the chat rooms.
People can log in as guests i.e. anonymous login. They can login through their Facebook and Twitter accounts. Or they can also view the chat without even logging in.
A moderator will have the right to block users and clear the chat histories.
Design the chat boxes
RumbleTalk lets you align your group chat boxes with the overall look of your website. You can use a chat skin accordingly.
Alternatively, you can design your own skin. You can do that via admin panel or if you know some coding you can use CSS.
You can control the background in all parts of the chat. You can use your own image or design as the background or you can choose the background to remain transparent.
You can also control the colors and font sizes. The chat box can be shrinked or increased in size as and when needed.
Spam filter
As the administrator of the chat you will have the ability to limit the use of inappropriate words. RumbleTalk allows you to prepare a list of words which you can block from appearing when people chat.
Then, you can also ban some users if you want. These measures are necessary to avoid spamming.
Let chatters promote on social media
RumbleTalk gives the option to chatters that they can invite people from their social media accounts like Facebook and Twitter. You can give them the option to tweet out quotable quotes from the chat or post them on Facebook. They can also sign in through a single sign in through their Facebook and Twitter social accounts.
Go and take a look at the website and let me know what you think in the comments below.