Small business owners and entrepreneurs are bombarded with keyword research advice. Choosing keywords carefully will help a website's search engine optimization (SEO) efforts, and for many years this was the end result. If you make it to the top of a Google search engine page through SEO, you've won. However, keywords are now becoming important when looking to rank on social media networks—particularly LinkedIn.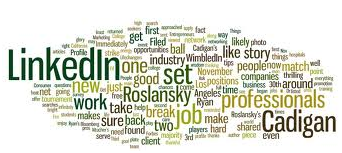 When someone is using LinkedIn, they can type a keyword into the search box to search for people. If someone doesn't know your name or they aren't looking for a specific person(ex: future employers), they are likely to type in a keyword such as "journalist" or "class of 2010." Consider a few of the keywords you think someone may use to find you (or keywords you want someone to use to find you) on LinkedIn and then go see where you rank. This will give you an idea of your overall visibility or lack thereof.
If your profile is nowhere to be found when searching on LinkedIn, don't sweat it. You have some work to do, but optimizing keywords on LinkedIn in much easier than trying to get ranked on Google. Although it works in a similar fashion, Google rankings deal more with company branding while LinkedIn deals more with personal branding. In the end, both are extremely important for every business.
4 Steps to Increase Your Visibility on LinkedIn through Keywords
Step #1: Determine your keywords
Unlike Google, there is no intense keyword research necessary. Because utilizing keywords is new to LinkedIn, the competitionis slim. For this reason, all you have to do is think about two or three keywords you think someone would use if they were going to look you up on the website. Generally, a two or three word phrase will yield the best results.
Step #2: Optimize your headline using the keywords
Many LinkedIn users have very generic headlines because they seem the most professional. However, it is important that your headline makes you standout. Think specific and geographic. If you have a specialized skill, put that into your headline; if you work locally, put that into your headline. These should also be a few of the keywords you're trying to target.
Step #3: Place your keywords in your experience
LinkedIn has an "experience" section that draws the eyes of most future employers. You will want to use your keywords in both your job titles and your job descriptions. Remember, though, that you want your profile to be natural. If you're just sticking in keywords wherever you can someone may find you, but they won't be interested.
Step #4: Don't forget about the "summary" section
Finally, LinkedIn has a summary and specialties section. Just as with the "experience" section of the profile, keywords should be utilized in these sections in order to increase visibility. Remember to use two to three keyword phrases that are specific, local (if needed), and natural.
The key is to use keywords secretly. Just as if you were trying to improve the SEO of a company, you want to make the keywords seem natural and normal. Many do not realize that keywords work so well when it comes to social media, so if you can get ahead of the curve now, you may be surprised just how well keywords will work.
Photo Credit: linkedintobusiness.com
Amanda DiSilvestro is a writer on topics ranging from social media to business proposal. She writes for an online resource that gives advice on topics including small business loans to small businesses and entrepreneurs for the leading business directory, Business.com.