As an industry, digital marketing often sees a climate of rapid shifts, ever-changing trends and constant strategy updates. Local SEO is no different; the amount of changes that Google inflicts on the landscape is relentless. For this reason, it is absolutely essential that we endeavour to stay ahead of the game as digital marketers by constantly researching and informing ourselves. So you can maximise your Local SEO results, we've collated a breakdown of the top 5 changes to the Local SEO landscape and what it means for you and your business.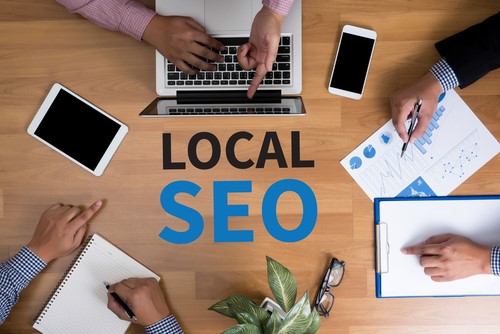 1.  Increased competition
With an increasing amount of business owners and marketing teams employing the skills of a SEO agency, naturally the awareness of Local SEO has grown over the years. This means that the already limited space available for Local SEO has become incredibly competitive, regardless of what industry or market you're in. For instance, the term "Local SEO" has now become a commonly searched phrase. Therefore, if you want to have a holistically successful SEO campaign, you cannot afford to ignore Local SEO. This means investing in a strategy that incorporates backlinks, page optimisation and content creation.
2.  Google Home Services ads
Google Home Services is an advertisement platform that provides small businesses with the opportunity to rank ahead of the local pack, without having to utilise a traditional Adwords ad.
A new and improved system, Google Home Services ads requires in-depth verification, including background checks for all technicians that will enter a home. After the verification process has been completed, leads are set at a fixed dollar amount, as opposed to a variable cost per click, a-la Adwords.
3.  Ads in local search results
Another recent change to the Local SEO landscape is Google's inclusion of advertisements into some local search results. Although this is a noteworthy development, this will indeed be a slowly rolled out modification. Hence, not many results are currently yet to feature an ad since the announcement in June last year.
4.  Google Penguin 4.0 phase 2 algorithm update
Between 500-600 times per year, Google will change its search algorithm.
While most of these changes are minor, Google does roll out major algorithmic changes – such as the Possum, Panda and Penguin updates. The last named major update was the Penguin 4.0 phase 2 algorithm update, that came into effect on October 6th of 2016. Always keeping us on our SEO toes, Google's phase 2 of the Penguin 4.0 update was the reversal of all previous Penguin penalties.
5.  "Popular Times" feature added to Google Maps for iOS
The Popular Times feature was added to Google late last year, and now the latest update includes information on just how busy your business is right at this very moment. The Google Maps app for iOS has now also been integrated with this update. Now, the iOS app lets users see how crowded a particular business is in real time, as well as providing automatic recognition of addresses in the clipboard.
Local businesses are able to take advantage of this feature, as the Google maps app can now show users at just what times they are able to skip the queue – providing you come up in the search results.
It can be difficult and frustrating to speculate just what Google is going to do next; what algorithm update they are going to surprise us with. With the innumerable amount of changes recently, it's important that businesses practice a holistic SEO approach, and spread their strategy across local, organic and paid sections of Google. This will ensure that changes to the Local SEO landscape won't pull your business' success down to a critical level.