Deposit Photos is a great resource for buying and selling royalty-free photographs and vector images. They got more than 22 million high-quality stock photos, vector images and videos sold under a royalty-free license and still counting with thousands of new items added every week. If you are a photographer then it is the right place for you to sell your work and earn some extra money.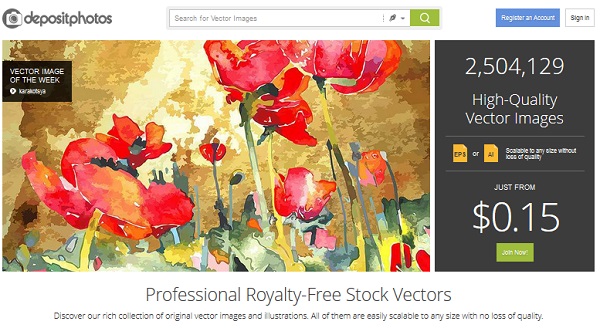 Depositphotos also gives you the opportunity to earn money even if you aren't a photographer. Depositphotos has launched an Affiliate Program. According to its terms, any participant of the program can receive up to 30% from the purchases made by the buyers he attracts. Taking into consideration that an average bill at Depositphotos is around $100, participation in the Affiliate Program can become a really beneficial source of income.
Depositphotos affiliate program benefits
Affiliation commission: Earn 30% commission for new and 15% for existing customer purchases.
Promotional material:  Get access to banners, product feeds and widgets, text links, emails and API.
Powerful affiliation tools.
Real time reporting.
Dedicated Account Manager.
"A wide choice of promotional tools gives not only website or blog owners, but also people spreading the word among their friends in social networks, an opportunity to make money. It should be mentioned that 30% is the biggest reward for attracting customers in the industry. Depositphotos is the only company offering an Affiliate Program commission which is that high," notes VadimNekhai, Depositphotos CMO.
This new offer from Depositphotos is available at https://depositphotos.com/affiliate.html. All participants of the Affiliate Program will receive access to advanced reporting; a personal manager will be also available 24/7 for any queries.
"The Depositphotos Affiliate Program is a great chance to make money thanks to the visitors to your website and people you know. Just one banner or a link on your page in a social network can bring you hundreds or even thousands of dollars in supplemental income. The main thing is to attract prospective buyers who are willing to buy professional photos, vector images and videos at Depositphotos," adds VadimNekhai.
For more information, please visit http://depositphotos.com/, and follow Depositphotos on Facebook or @Depositphotos on Twitter.