Now that the new year is underway; you'll probably be assessing your life and thinking about what makes you happy. Your job and career can take up a major majority of your life, so it's crucial that you feel that you're gaining plenty of experience, appreciate, and satisfaction as possible in your place of work. However, this is not the case for many, and you might be getting the feeling of dread every Sunday evening before it's time to get up and go back to work on Monday again. If this is the case; now is a great time to look into how to make a positive change so that your working life happiness can increase as the year goes on, give you a positive 2018 ahead. There are several things to think about before you start taking action to change your career and life, so begin preparing yourself as soon as possible.
You'll need to approach the changes that you want in your working life like a job in itself; therefore, your evenings, weekends, or free time, should be spent working on what you need to do. Try not to let your new focus this year distract you from what you're currently doing; you don't want to leave your current job on bad terms, so keep up the momentum. The extra effort will pay off in the long run when you're working every day, doing something that you find rewarding so that you can return home feeling fulfilled. It's worth having a great letter of recommendation or a quality reference from your previous employer, even if your new role is completely different, so bear that in mind when you're completing your last months, weeks, and days in your job at present. The following are some ideas, inspiration, and advice for those looking to further their career in 2018, whether that means a boost up in their current job, a new place of work, or taking a new path altogether.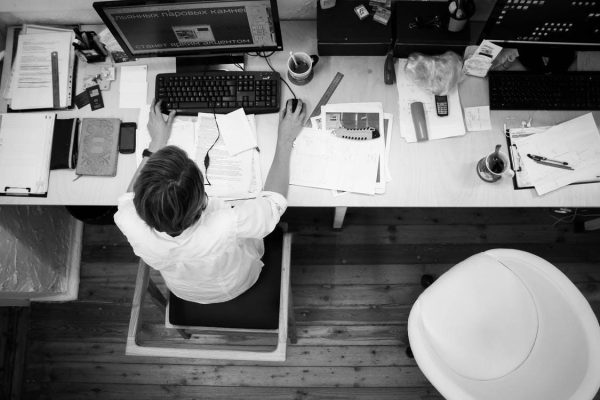 Image source: https://www.pexels.com/photo/black-and-gray-photo-of-person-in-front-of-computer-monitor-140945/
Gain The Most From Retraining
If there is always something that you feel you've wanted to do, but simply haven't got the qualifications; there's no time like the present to take action and begin to retrain or train further into your chosen field of work. Many job opportunities will accept you at a lower level than you're aiming for if they know that you're already on the path to having the right certificates and qualifications. You'll be able to show your willingness during job interviews, and your dedication to your potential new line of work, by being proactive and understanding the steps needed to get where you want to be. Therefore, it's worth looking online at courses, education, and degrees that you're able to fit around your current job. It'll be a tiring process, but well worth it in the long run. If your training is to further your current career; talk to your employer about your options, and see if they can accommodate your new schedule better. If your boss or company is unwilling to move or assist your dreams; it could be the sign you were looking for to move onwards and upwards.
Caregiving and vocational jobs like teaching and nursing will always benefit from your previous experience and the people skills that you've learned out in the world beforehand. Therefore, it's worth gathering together a thorough resume or CV and ensuring that it's geared towards your potential new role. This focus during an interview, coupled with the teaching degree you worked for at college or the online MSN that you took the initiative to gain in your free time, will stand you in good stead, and there's no reason that you won't get the job you've been thinking about for the majority of last year. Again, caregiving jobs will sometimes support those who are mid-training, and you can learn a lot on the job, so you might not have to wait quite as long as you though to hand in your notice to your current employer. You can also boost your abilities for caregiving lines of work by volunteering in your spare time; this will give you plenty of hands-on experience that a qualification or piece of paper simply can't provide, and anyone who is interviewing you will appreciate your efforts.
If the field of employment is less caregiving or vocational based, and more along the lines of heading towards a job in the corporate or business world; you'll need to start from the ground up. If you possess plenty of skills and knowledge, your ascent towards the top of the career ladder should be swift, but you'll need to be prepared to work hard from the get-go and perhaps sacrifice some of your income in the short-term. If you have a clear idea of the company you want to work for or the sector you want to move into; keep your eyes peeled for apprenticeships or training roles within your potential place of work. Like many large corporations; there will be plenty of businesses that will prefer to keep their employees long-term and ensure that they are working for the company in some capacity from early on in their career. Therefore, if you're looking to develop, grow, and evolve within a career; you'll need to be ready to start from scratch, train, and work hard like you've just left school, college, or university again.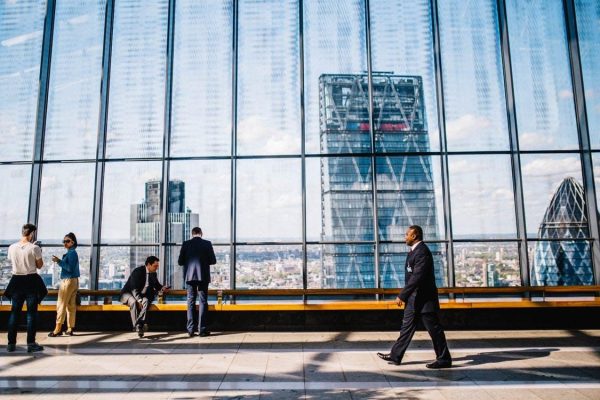 Image found here
Somewhere Different In A Similar Field
If you're already working within the field that you're happy, enjoy the majority of your responsibilities, but are craving a change of pace or scene; you could just need to see what your alternative options are in your field of work. Perhaps you've always worked on the manual side of things, and you feel that it's time to move into an office environment. Having on-the-ground experience in a role will always ensure that you're qualified to apply for positions elsewhere within a particular company, or take a slightly new direction within the same line of work. Therefore, don't be put off by a new environment and way of working; you could be just what a business is looking for, regarding what you can bring to a new area. Maybe you feel the opposite, and want to get your hands dirty, after being sat at your desk for years; find out what training will be needed, and articulately explain why you've had a change of heart regarding your role. Employers will be more open to hiring within their company than they would bringing in somebody new, so you'll already be off to a great start.
If you're looking to change your job and want to head somewhere new, but still want to work within the same career; you'll need to make sure that you have clear and concise reasons for doing so. Potential employers may question your eagerness to change, as they won't want to hire someone that is going to get bored or tire easily of their work. Therefore, it's worth looking into the new role or area of employment you're heading for, and understanding the role in great detail, before you go to any interviews for job roles, training programs, or courses. Fine-tune your resume and tailor it to your desired workplace so that you can ensure that everything you've worked on up until now has made you the perfect candidate for anyone interviewing you. Remember that companies and businesses want long-term team members, so it's worth making sure that you're in it for the long run, and are ready to take on the new challenge.
It might be as simple as transferring your job or role to a new location where your company is also set-up. A change of scenery, a new team, and a fresh start within a company can often provide you with that boost you've been craving. If you've always loved your job, but your colleagues or environment bring you down; you could be brave this year and consider relocating as an option. Research into the various locations where you could potentially be transferred, and figure out how to explain your decision to your current boss. Personal reasons, family, better school options for your kids, or just the desire to work in a bigger city or quieter location for a different pace of life are all valid reasons. A new area of the business might be opening up elsewhere, and this could be your chance to do something new within the safety of your chosen career and job role, so bear that in mind before you jump ship completely.
Stepping Further Up Your Career Ladder
If you don't want to change jobs, your field of work, or the location you work in; you might just feel that you're ready for more responsibilities and a better income within your current job. Therefore, now is the time to take those steps up your career ladder and go and talk through your options with your employer. If you're lucky enough to love the various elements of your job; make 2018 the year that you're getting what you desire and deserve from your job. Be brave, take action, and make the positive changes required to get where you want in your career so that you can enjoy your best working year yet.