Are you a people person? Do you hate your job if you're not interacting with interesting people every day? Working in a cubicle all day isn't your style? If you answered yes to these questions, you need to find a new job in a new field that will take advantage of your natural charisma. Here are the four best industries to consider if you love people.
Sales Representative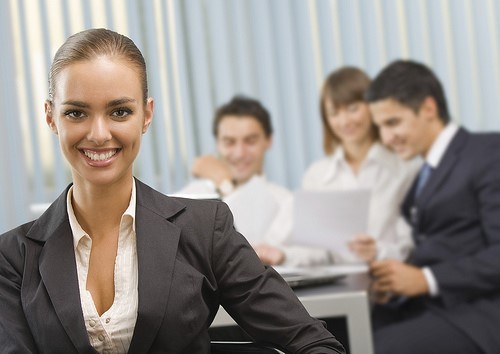 Don't let the character of Willy Loman from Death of a Salesman persuade you against this career. Sales reps earn almost $55,000 annually on average, which is good money for a job that doesn't always require a college degree. This type of opportunity plays to your strengths because the best sales reps are the ones who love to schmooze with customers, new and old. You'll constantly meet and engage with people in intimate settings, and you'll develop relationships with a wide range of people.
Event Planning
With an average salary of less than $47,000, event planning isn't quite as lucrative as sales rep. To do this job, you'll have many more opportunities and higher salary potential in larger cities. Event planning is rising in popularity due to the increasing volume of major functions. Rather than handle all the details themselves, customers prefer to outsource to an individual with experience and knowledge in the industry.
Working in this field, you'll meet a lot of people. You'll have new customers each week, and you'll interact with a wide body of vendors. Potential contacts include managers of party venues, caterers and others in the food service industry, and others who perform complementary duties to your own such as disc jockeys, musicians, and the like. Plus, you'll earn the satisfaction of happy clients when you finish each project.
Ride Sharing
As a people person, you may want to meet the largest volume of customers possible in a given day. If that's an aspiration, ride sharing is a wonderful choice. You can freelance for an established company like Uber, and you're likely to earn more than you would as a taxi driver, chauffeur, or limo driver.
While working in the ride sharing industry, you'll enjoy all the advantages of being your own boss. You'll determine your hours, and you'll have the freedom to take a vacation day whenever the mood strikes. Plus, while you're on the clock, you'll meet a new client with each fare. You'll also receive the validation of high scores when these recently met potential friends grade your services.
Fundraiser
In terms of trying to make a difference on a daily basis, working as a fundraiser is one of your strongest options. You'll earn about the same amount as an event planner, but the work is even more gratifying. Fundraisers contact a wide variety of potential donors. Their primary job task is to raise enough in contributions to achieve a large financial goal. This money will benefit some entity tangibly, which means you're accomplishing your part of the social contract while earning a decent salary.
Choosing any of the four careers above would be smart. You'll get out of the cubicle farm environment. In your new endeavor, you'll meet new friends and enjoy exciting opportunities.