When I was a kid I used to search for books in my school library not by their titles or authors' names but by images.
They say "A book should not be judged by its cover." But the fact is that many people judge a book that way. This is the reason why authors spend millions of dollars on designers to design their book covers.
But getting a designer design your exclusive book cover can be pretty expensive. Hence many people go for stock photo agencies.
A stock photo agency is a place where you can buy royalty free images. "Royalty free" means pay only once. You don't need to pay any monthly or yearly charges once you buy the image.
Stockfresh is a website that enables you to do just that. It is owned by the founders of the famous Stock.xchng and Stockxpert sites who have more than ten years' experience in the industry of stock photos.
Take a look at the screen shot of the home page above. You will find no clutter, no congested material just a simple and easy to use, user friendly interface. This is the feature that makes Stockfresh stand out of the crowd from other online stock photo agencies. It looks just as its name suggests – fresh.
The website currently owns more than 1.2 million images – in fact 1,267,802 at the time of writing of this article, to be precise. By "images" I mean photographs, vector illustrations and graphics.
The prices of the images are pretty cheap – almost anybody can afford it. The costs start from only $1 and vary depending up on the size of the image.
Below is the screen shot of the prices of images when bought without a subscription package.
But if you are someone like a professional designer or a publisher and need to use many images per month then you may consider buying a subscription package. See the below image for details on packages available.
As you can see from the images above all major payment options are accepted – PayPal, WorldPay, Moneybookers or a simple online bank transfer.
Click the following link to buy images.
Other qualities worth mentioning are:
1) Quality – Stockfresh use a strict image screening procedure that ensures you get the best possible images for your use. The authorities reject any poor quality images so that your time is not wasted in searching for a decent image.
Take a look at the screen shot below for "Most popular images". Simple, clean, beautiful images.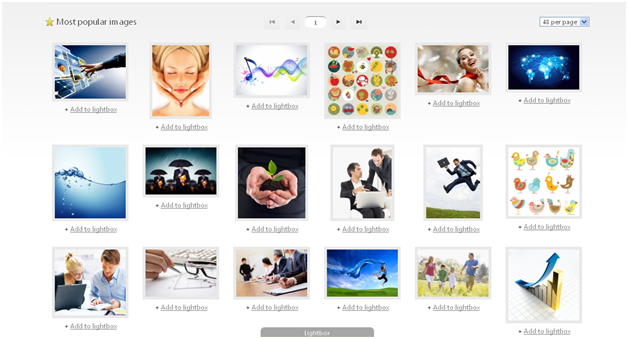 2) Respect – Stockfresh ensures that the hard working photographers and designers get a proper piece of the pie when you make a purchase. Unlike other stock photo agencies the commissions that Stockfresh designers get are the highest in the industry.
3) Service – If you ever face any problems in using the site, the technicians will always be there to help you out in a timely fashion. (Although it is highly unlikely that you will face a problem.)
Take a look of the website and do leave a comment below to let me know your views.