Most people simply throw away their old hotel key cards or used gift cards without a thought, but next time you may want to think twice. Believe it or not they possess a number of uses due to their physical characteristics. Their thin, sturdy, lightweight, waterproof and compact form make them ideal for odd tasks if the right tools for the job aren't at hand.
Below we have compiled 12 uses for your old and unwanted plastic cards.
1. Ice Scraper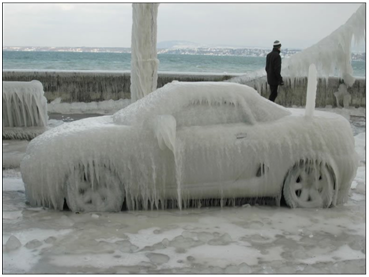 You're late. You don't have time for breakfast. And you forgot to iron your work clothes. We've all been there and there's nothing worse than finally making it out the door to find your car has been transformed into an ice cube, and to top it all off your de-icer has run out and you don't have an ice scraper. Believe it not plastic cards make great ice scrapers, and due to their handy size, they are easy to store in your car for emergencies just like this.
2. Guitar Pick
Are you a Rock God that finds yourself burning through guitar picks like they are going out of fashion? Look no further than the Pick Punch, which creates plectrums out of old plastic cards in seconds.
The punch itself will cost you $25, but you should have no problems justifying the price considering you can punch 3-4 picks from the standard plastic card size.
3. Opening a locked door
You see this all the time in movies. The stereotypical hero needs to gain access to a room on his path to saving the world, but the door is locked! What will he do now? Whip out his credit card and give it a little wiggle in the door crack to magically pop it open, of course.
However, this only works on certain locks so you can sleep easy tonight. Not that we endorse breaking and entering.
4. Straight Edge
Need to underline a title but couldn't quite fit a foot long ruler into your pocket this morning? No worries, grab a plastic card from your wallet for a straight albeit shortline.
5. Bookmark
If you're sunning yourself on a beach or by the pool while getting stuck into a good book with no bookmark to hand, and don't want to bend the corners of the page, why not pop in a card from your wallet?
6. Snow Goggles
Ever wished you owned an awesome pair of snow goggles made from old credit cards? Neither have we, but it's nice to know it's possible.
7. Covering u
Lady Gaga eat your heart out. Why would you make a dress out of old meat when you can don this cheeky little number made entirely from credit cards? The designer, Lizzy Gardiner, was sent 300 invalid cards by American Express to make the dress, each card with her own name on! After she wore it to the Oscars it was auctioned off for a hefty $12,650!
8. Make a headphone holder
Don't you hate it when you fold up your headphones neatly and place them in your pocket, only to find they have completely knotted and tangled themselves as if they had a life of their own? This clever chap found the perfect solution by taking a drill and craft knife to an old plastic card of his.
9. Buttering your toast
You know times are tough when you have to butter your toast using a credit card which most likely got you into that mess.
10. Putting
Tiger Woods is finally feeling the sting of having to pay off his wife and mistresses, and is now opting for a more affordable choice of putter. Youtube video here .
11. Harry Potter Oyster Wand
If you have ever wanted to make a big impression in a busy place, why not choose rush hour on the underground. After rallying up a crowd of bemused commuters, dressed up as the infamous wizard, you can proclaim a hocus-pocus phrase, wave your oyster wand and pass through the terminal. Note that the London Underground does not endorse this type of activity!
12. Gambit from X-Men
Another one to get dressed up for. Whether you have seen the MoneySupermarket advert or just a big X-Men fan, the idea of flinging a few playing cards around the place seems like fun!
Do you have any great uses for unwanted plastic cards? Get involved in the discussion below!
This post was written by Matt Payneon behalf of madebyoomph.co.uk. Oomph specialise in printing high quality plastic cards – From contactless cards, membership cards, discount cards, hotel key cards and gift cards.