With the holidays just around the corner, now is the time to offer holiday sale, not only for retail stores, but also for online shops. If you run an online shop, perhaps you are well-aware of the significance of this time when it comes to your revenues. This is the time when people are in a rush to complete their Christmas shopping, and this is the time when your online shop may see a dramatic increase in sales .
To make the most of this time from the perspective of sales, it is important for you to stay connected and engaged with your prospects. So, how to use this time to boost up your sales visibly?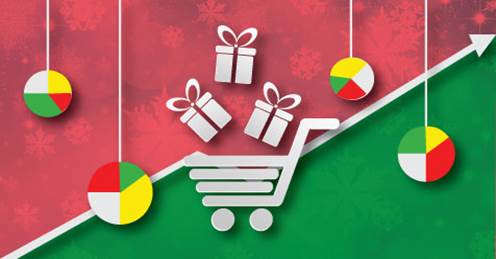 Image Courtesy: www.mdgadvertising.com
Here are some effective marketing tips to help you boost up your sales this holiday season.
Use last year's experience
Before applying any specific strategy, use your experience from the last year's performance. Review the techniques you used for marketing in the previous holiday season, and find out which channel created the biggest impression on your customers. Was the channel social media? Was it marketing through emails? Or was it some other channel? By observing the impact made by each channel, you can determine which channel you should focus on this year to drive sales.
You can also find out the channels that made the least impact, and design ways to improve them. It doesn't mean that those channels won't work this year, simply because they didn't last year. It is important to use as many channels as possible to maximize the impact of your marketing plan.
Greet loyal customers
Who doesn't love getting personalized holiday messages? Your loyal customers would really be pleased if they get a Christmas card addressed to them specifically, from you. This is a great way of expressing your gratitude towards them. So, consider sending a message on Facebook or a direct message on Twitter, or an electronic card in the holiday season. Although it's just a simple holiday greeting, but it would strengthen your loyal customers' patronage, which would lead to more sales.
Have a countdown in your website
An effective way to make customers quicken shopping is reminding them that the celebration days are quite close. You can apply this method by installing a countdown widget in your e-commerce website. You can use countdown timer in another way by reminding customers the number of hours left for a specific sale to be over. You can also remind them the time for which they need to wait for another sale to start. This is a really good way to boost sales during the festive season.
Image Courtesy: www.websitewerx.com
Have flexible return policies and shipping methods
Holiday shopping is often quite stressful for customers, but you can surely make things easy for them and earn their loyalty. One way to do this is offering them different shipping methods. Although many online stores provide free shipping when a customer's expenditure reaches a specific amount, consider whether it's possible for you to ship anywhere in the nation for free. Another idea is to speed up the delivery of the ordered products. Just ensure that you commit to the shipping schedules, so as to keep the trust of your customers.
Return policies is an aspect into which you can bring some flexibility in the holiday season, especially because you have to face tougher competition during this time. Remember that your competitors too, are applying ways to draw customers and drive sales. Review your policy for return and exchange, and determine the changes you can incorporate in them during this time. For example, if your policy states that returns can be accepted only up to 3 days after making the purchase, consider changing it to 5 days for the holiday season.
Offer gift cards
Many people don't have enough time to do a lot of shopping. This is a good time to give such customers gift cards, which can be used by them to gift their friends and family. Besides being easy to purchase, the gift card recipients could also be your new customers. Start giving gift cards before the rush of holidays begins, so that the people having gift cards can shop also.
Image Courtesy: thechefalliance.com
Offer giveaways, incentives and promotions
Consider offering a season-appropriate giveaway, bundle or discount to your customers. When deciding what offer to give, think of the season and in what way you can help customers to handle the expenses and stress of the holidays. Then, think of a compelling reason for your customers to act. For instance, instead of merely offering a discount, provide a packaged offering like "Buy X item now and we will provide you Y for free this holiday season."
A giveaway can also lower the burden of customers. You don't need to go for expensive giveaways. Offering things as simple as a free holiday cookie or an apple cider, when customers visit your business location or store, would make them remember you.
Let your business flourish during the holiday season, with these tips. Apply these marketing tips well, and watch how your sales figures rise remarkably.
Authors Bio
Thomas Miller is an Online Marketing Consultant in B3net Bio – A leading Life Science Digital Marketing Company in Orange County, United States. He loves to explore the new opportunities in business and share news and updates through social media. He also loves to interact with others through his write ups.