The Shock family, makers of several design projects like IconShock and WPThemegenerator, have launched a new product for WordPress called Grid Layout Shock, which promises to be a step forward in layout design for WordPress.
Grid Layout Shock allows to create grids using a shortcode. These grids have the appearance of a pinterest board. but count with the advantages of customization for font size, font type, box style, box width and more.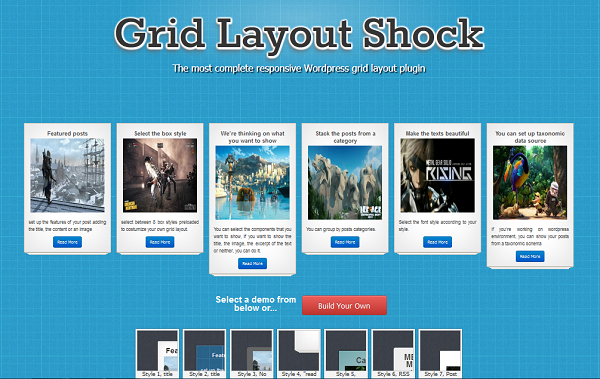 In regards to what can be shown, the user can create more than 1 grid per page thanks to the easy renderization through shortcode. The grid will show all the posts, or the specific category or custom post type that the user wants. Also, the tool counts with pagination options that allow the grid to have pages among which you can slide; Which is an advantage if you have a lot of posts even for specific categories, that helps to show in a better way all the posts.
One more thing that makes this plugin attractive is its capacity to show content from external sources by inserting an RSS url. which will feed the grid with the latest content from any source the user wants that have active URL feeds. The plugin is based in masonry JS which is a very well known plugin for its capacity to make pinterest layouts. Grid Layout Shock has taken it to the next level, allowing the plugin to do all these customization options and some others that the user will find as he continues the usage of the tool.
If you like pinterest and would love to use such presentation in your WordPress installation, this plugin can make things very easy for you. It is available with a free and a paid versión with all the advanced features to make an impressive grid.