WordPress Community has never stopped surprising global WordPress users with innovative themes, plugins and extensions. These add-ons have enabled WordPress lovers to perform activities that they had never ever thought about. Whether it's about introducing new set of themes for a specific group of WordPress website owners or launching new versions of an existing WordPress theme/plugin, the never-ending efforts of the WordPress community have proved beneficial for the entire regime of WordPress enthusiasts. Today, in this blog, I'll be highlighting 6 of the best Full Screen WordPress themes that have helped people showcase their work in a beautiful manner.
Vertex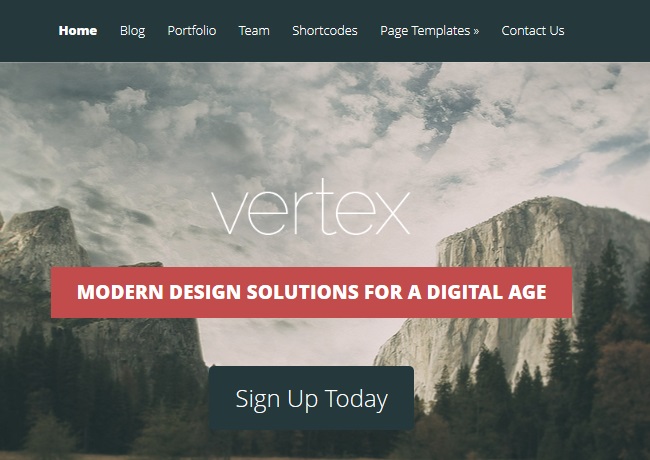 Vertex is an amazing theme built for service providers that want to showcase their  products. The climb down from the Vertex is long, but as you descend you are met with beautifully animated content that is built for scrolling. The homepages gives you a chance to engage your visitors and tell your story through galleries, sliders, testimonials and team member bios. At both the vertex and the summit, you are met with a clear call to action that is built for conversions. Vertex sweats the small stuff, and each element has been designed with meticulous detail.
Photogra
Photogra is a Fullscreen WordPress theme perfect for photographers or agencies that deal in business related to showcasing portfolios. The responsive design of this WordPress theme makes your website look great on a variety of desktops, laptops, tablets etc. The cool and trendy jQuery effects available with Photogra make it convenient for you to add a range of decibels into your website. The best part of Photogra is that it can be used even by a WordPress beginner. Photogra is compatible with web browsers including IE7, IE8, IE9, IE10, IE11, Opera, Safari, Firefox and Chrome.
SmartScreen
SmartScreen is yet another fully-responsive Fullscreen WordPress theme that offers CSS functionality to your website. Some of the impressive features available with this WordPress theme include 500+ Google fonts, responsive layout, compatibility with WordPress 3.5, Background music (can be enabled/disabled as per preference), child themes support, 20 transparent patterns, filterable and paged portfolio layout, social media support, SEO semantic markup and many more features. SmartScreen is compatible with web browsers including IE7, IE8, IE9, IE 10, Opera, Safari, Firefox and Chrome.
Flight
As an interactive and fully responsive WordPress theme, Flight is definitely a must-have for everyone who wants to showcase his/her portfolio, blog, beauty or fashion skills, personal opinions and other creative visual artwork. Designed with the latest technologies in CSS3, HTML5 and jQuery, Flight is well-suited for a variety of websites. The contemporary look of this WordPress theme makes your website look perfect on a variety of internet-enabled devices such as desktops, laptops, smartphones etc. Flight is compatible with web browsers including IE9, IE 10, IE 11, Opera, Safari, Firefox and Chrome.
Fullscreen
A responsive layout combined with minimal design is what makes Fullsreen WordPress theme a must-have for people who want to showcase their photography skills. The theme also comes with a fullscreen gallery, allowing you to portray your photos in a gorgeous style.  Some other impressive features of this WordPress theme include custom header menu, social media icons, custom footer text, 7 theme skins, child theme support, optional RSS icon, custom welcome message and many more. Fullscreen WordPress theme can be effectively used for showcasing lightbox media such as video, popup image and iframe window.
Ideas
Ideas is another exciting full screen WordPress theme suitable for different types of websites. The 100% responsive nature of this WordPress theme makes it a perfect fit for websites targeting mobile users. You can choose from a variety of fullscreen posts available in the form of slideshow, video, Kenburns and Photowall. Ideas is a WPML ready theme and includes .po .mo language files. The retina-display images look perfect on iPads, iPhones and Retina Mac Books. Some of the impressive shortcodes available with this WordPress theme include information boxes, lightbox, toggle, accordion, buttons, highlight, audio player, service boxes, Google Maps, social media links, progress bar, thumbnails and many more. Ideas is compatible with web browsers including IE8, IE9, IE 10, IE 11, Opera, Safari, Firefox and Chrome.
Summing Up
Now that you're well aware about the best Fullscreen WordPress themes, I hope it will become easier for you to choose your best fit. But, prior to settling down for a particular Fullscreen WordPress theme, make sure to analyze how you want things to be displayed on your website and whether choosing a fullscreen theme would work for it. Never take things for granted but make a well-planned decision, as it will take you towards the route to instant success.
If you loved the above write-up, do consider sharing it with others. Please don't forget to drop in your views/opinions using the comments box below.
Mike is a blogger by mood and web designer by profession. He gives ideas to convert PSD to wordpress theme and loves to share his thoughts on social media. Log in to his web to get other HTML to wordpress theme conversion services.