WordPress is a robust, flexible content management platform that powers nearly a quarter of all websites. Even out of the box, it contains virtually all of the features you'll need to get a site up and running quickly.  But perhaps WordPress' biggest strength is the incredible variety of themes and plugins that can enhance or customize its default functionality and appearance.
Out of the box, WordPress allows bloggers and webmasters to easily interact with their readers through comments. But what if you want to give your readers more direct access? The best way to do this is through a contact form. There was a time in the not too distant past where implementing a contact form would involve setting up complicated CGI scripts and adding code to your .html files. But with dozens of free contact form plugins available in the WordPress repository, adding a contact form to your WordPress blog involves nothing more than a few clicks of the mouse.
Here are 5 of the most flexible and easy to use free contact form plugins available for WordPress:
With over 11 million downloads  from the WordPress Repository and counting, Contact Form 7 is perhaps the most widely used contact form plugin for WordPress to date. While more downloads doesn't always equal better, in this case it means that the developers provide regular, prompt updates for Contact Form 7.
Contact Form 7 offers bloggers the ability to customize their contact form fields through easy to understand short codes. Despite being simple to implement, it's also an extremely powerful platform with support for managing multiple forms and the ability to extensively customize. It also supports Ajax filtering.
Contact Form 7 can easily be upgraded with captcha spam protection through the Really Simple Captcha plugin, integration with the Askimet spam filtering plugin, or other anti-spam measures like a hidden field trap through the Contact Form 7 Honeypot plugin.
As the name suggests, Fast Secure Contact Form is a lightweight, secure contact form plugin for WordPress. Fast Secure Contact Form not only allows bloggers and webmasters to quickly insert contact forms into their WordPress blog, it also supports file uploads and lets visitors submit meeting requests, which makes it perfect for consulting oriented business sites.
The Custom Contact Forms plugin prides itself on its high level of customizability, without the need for complicated markup or CSS knowledge. It has a simple drag and drop interface that allows users to quickly re-arrange form fields, and the admin panel gives users fine-grain control over the visual elements of their form without knowledge of CSS. This makes it great for non-techies who can't tell the difference between HTML and CSS.
Emails sent through custom contact forms will be submitted to the indicated email address, but they can also be saved directly to the admin panel, where they can be exported via CSV format. Custom Contact Forms also has a lot of time-saving features that lets users fine-tune their forms.
Contact Coldform's strength as a contact form plugin is that it's extremely easy to implement and very lightweight. At the same time, it offers enough customization options to satisfy the more discerning blogger. Once the plugin is installed, the contact form can be added anywhere on your site simply by inserting a shortcode.
Coldform also comes with spam prevention options including captcha, challenge questions, a firewall, hidden input field bot traps, as well as filters to block malicious emails.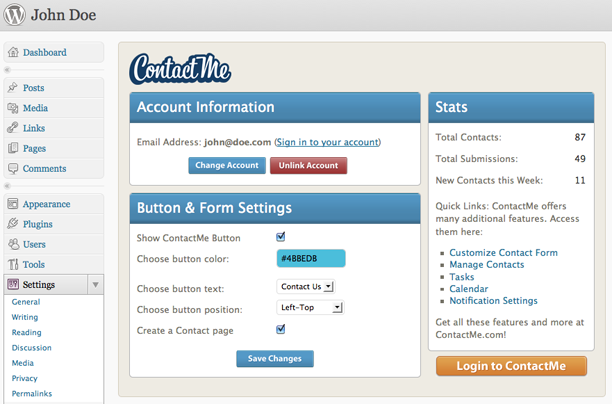 ContactMe isn't the best plug-in for individuals looking for an ultra-lightweight solution (you need to sign up at ContactMe.com to use the plug-in), but it is one of the more feature rich contact form plugins available in the WordPress repository.
In addition to the standard anti-spam and customization options, ContactMe allows bloggers to setup SMS notifications, implement analytics code to track ROI (a great feature for service businesses looking to maximize conversions), add business information, logos, social contacts and more.  However, one feature that's missing is the ability to upload files.
This guest article was written by Simon, one of the talented writers at Higherclick.com. He is currently working for Jangomail a cool mass email service provider.