If you're like the many camera buffs out there who always bring along with you either a DSLR or your smartphone, you can be calm now that there's a powerful memory card recovery around in case you run into any issues.
Can you imagine all the pain and heartache that comes with losing all your precious moments that was captured with your DSLR or smartphone? That memorable vacation captured beautifully but could now be potentially gone forever with the memory card failure that can happen at any time. Not to worry though now that there's EaseUS Data Recovery Wizard around.
Not only can it be used for memory card recovery but as a hard disk data recovery as well. And it is so easy, in just 3 simple steps you could bring back to life whatever you thought you had just lost. It can be used to recover data either due to deleting, formatting, partition loss, improper operation or for whatever reason. It is able to recover pictures, videos, audio, emails, documents and everything else in between.
You start off with downloading and installing the program on your PC but do take note to attempt the memory card recovery process as soon as the problem crops up as to increase your chances of finding the missing files. Once you have installed it, run the program and this is where Step#1 comes in.
If you know that you're looking to recover pictures from your memory card, you can plug in your memory card and it should auto-detect it. By default it will select all file types, so you should only select pictures for a faster scanning process. Next is to select the memory card so it saves more time rather than searching your entire computer.
Step#2 is the scanning process. There will be a progress bar showing in percentage value of the scanning process as well as the estimated time remaining for it to complete. At any point of time you can pause the scan and resume it on a later date, but it is highly recommended that you complete the scan as soon as possible as the file could be overwritten if you delay for long.
Technically the first scan is a Quick Scan which should complete in just a minute. If you can't find what you're looking for, then it's time to perform a Deep Scan which is more thorough but also takes a little bit more. Depending on the size of your storage, if you're using it for hard disk data recovery on a 1TB drive, expect it to take quite some time to complete. Well if you're performing a memory card recovery on your 32GB memory card, it should take just few minutes to complete.
Once the scan is complete, it's time for Step#3 which is it allows you to preview the files before confirming which files to recover. You can filter by path, file type and time to zoom in on the files. If it's a picture, you can see a thumbnail which allows you to make a better informed decision to recover or not.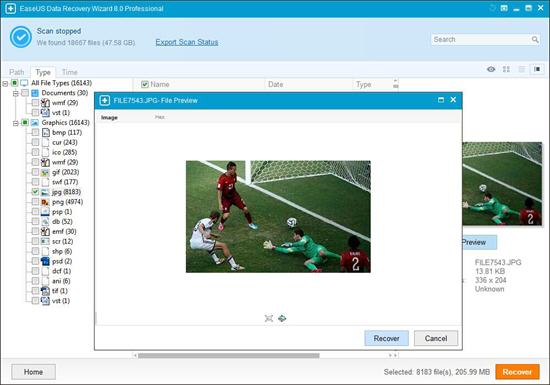 EaseUS Data Recovery Wizard is a very reliable and user-friendly hard disk data recovery and memory card recovery software. In just 3 simple steps you can recover whatever you have lost. The good thing is there's a free version available but if you're looking for more powerful features, there's a Professional version that costs $69.95.