Your business's office should reflect the way that your company operates. You don't want just a blank, dull space where your employees come into work in the morning and leave in the evening. It needs to have a personality. Your business has a brand and your team have an office dynamic, so why shouldn't your office reflect these things? If you want all your employees to work their hardest while feeling their happiest and working in line with the company ethos, their work environment should help them. There are ways you can add small touches to your office, to remind everyone who you are and what they stand for. These small touches help everyone to keep the brand's message and personality in their minds. It lets the brand come through as they work. Check out some of the ways you could embellish your office with things both big and small to make it obvious the building is home to your brand.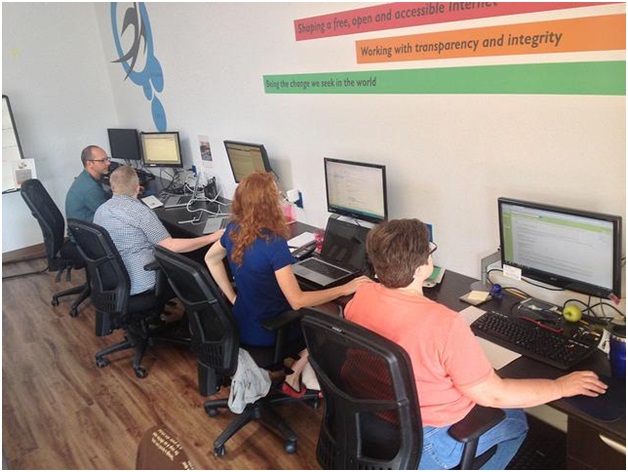 Murals
A lot of businesses go for the idea that if you're going to add some office branding, you might as well make it obvious. A large mural on the wall with your brand name stands out and makes an impression. Any visitors who come to your offices will know immediately that you fill the office with your presence. And they'll know that you're proud of your brand. And employees will grow their sense of pride in the brand and the office too, with a reminder of who they work for and what they stand for. It doesn't just have to be a big wall with your logo though. You can have fun creating a mural that reflects who you are, without plainly stating "this is our name."
Fun Touches
You can make your office a much more pleasant place to be in by adding some simple but fun touches. You don't need to have the budget to go all out and create something like a Google office, with slides and yoga studios. Just a few small touches can change your working environment from plain and uninspiring to somewhere your colleagues want to be and feel creative. For example, many gaming companies have games consoles, so employees can play on their breaks. Even something as simple as a pick and mix stand can help your employees feel more at home. It's not really working when you can go and get a bag of pick and mix from the breakroom, right?
Decorative Features
Decorating your office in line with your brand doesn't have to involve painting a huge mural on one of the walls. You can add smaller touches in your employees' line of site to help them stay on track and feel inspired. It might be in the form of posters or wall stickers, or it could be toys or artwork. Something representing your brand or logo is good for helping to claim the space as your own. It will help it to not feel like somewhere you're squatting. You could even introduce a brand mascot if you don't already have one, for everyone to identify with and associate with your brand.