For businesses, competitive advantage is crucial. Cut throat competition, the fact that customers are choosy today, and that they have options makes your job or running a business that much harder. You'd need to find ways to stay ahead of your competition while doing all you can to serve your customers for life. Meanwhile, you'll have to generate leads and keep the sales cycle on.
Thankfully, you don't have to go out of the way to impress your customers. You don't even have to flex your muscles too much or drain your resources to the point of exhaustion. All you have to do is get smarter. Little things go a long way to make a difference. In essence, you can delight customers with nothing more than "Incremental Innovation" as Rod Ebrahimi of forbes.com likes to put it.
Yet, the printing industry itself is in turmoil, but it's also crowded. According to the National Association of Printing Leadership (NAPL), there are more than 31,000 printing establishments. Throw in copy shops and other publishers and you'd have totals close to 40,000. The printing industry in the U.S is worth $230 billion in revenue. Of all the categories in printing, Interactive or web printing makes up just about 1.39% of the total revenue.
Not everything is lost. Printing is still in demand, except that a few kinks have to be ironed out. There's the web to look up to and the "web to print" is too ripe and profitable for printing vendors to miss.
That's a lot of opportunity for your printing business. Here's how you can turn the tables around:
Understand what the new Internet Age demands
Printing services demand heavy investments with regards to printers, ink, technology, stock paper/cards, and special equipment required for printing. After making investments of that magnitude, it's imperative that you plug technology in. You have a need to make sales to make sure you profit from your business.
The Internet has created new kind of customers – they like to see your final print products in action. They'd appreciate if you could display some of your finished designs. A series of videos with your print products in action (such as a video montage of your creative portfolio) could help them visualize what their own marketing collateral – for instance – will look like when finished.
Today's customers will want to read reviews about your services and products. Social media users will increasingly put out questions mentioning your brand to know more about your products before they put in their hard earned dollars.
Most importantly, customers demand a veritable presence on the web. They want you to show up and make a statement. In style.
Times have changed. It's time to call for a change.
Bring In the DIY component into your printing business
The Internet now enables to let customers create their own websites (without help from designers). Similarly, most customers love to reach out to online stores for garments, which let them input data to get their measurements right before buying garments. They like to click and choose. Customers love options. Not all customers, however, want vendors to take over the creative responsibility.
In printing, the final rendition will amount to a value add for customers. Chances are that they'd like to dabble with their own creativity provided you make tools available to them. Web to print software, for instance, allows you to have your customers design their own products. This gives them a way out to avoid sticking to "your version" of creativity. They'd prefer theirs.
specific questions on any of the print products come up.
Other alternatives to Behance to showcase your portfolio include Creattica, Dunked, Dribble, and Deviant Art.
Sell Through Online Market Places
The Internet is the new market place. There's a huge demand for print designs –for business cards, labels, flyers, brochures, and many other print elements or items online. Thousands of print designs (among other graphic items) are sold everyday through many of the market places available online.
Upload your finished items for sale at online marketplaces such Graphic River and Creative Market. Once you upload an item (with screen shots of the finished graphics), customers purchase directly online.
Sell on your own website
With some Web to Print software, you also have the option of letting customers design their marketing material or other print items and purchase creative items (after customers design their items) right off your website.
Of course, you'd operate like any other ecommerce store and you'll have to plug into all the digital marketing routes available to you. Go for paid campaigns, expand your presence on social media and make it work, and produce good content that imbibes a sense of trust and consistence in the minds of your customers.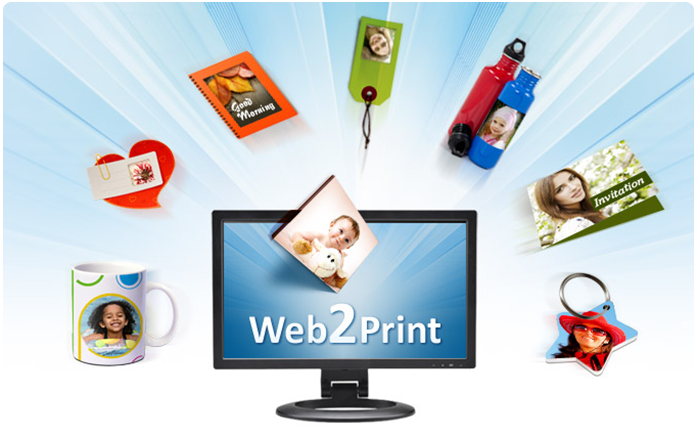 The world of print has changed. It has the "web" written all over it. How are you going to cope? What are you doing to meet the new age demand for print products over the web? What kind of web to print software do you use? Do share your experiences, thoughts, and opinions with us.
This is Ekta Jain. I am working with Design'N'Buy, a super talented team of creative minds developing the best web to print software. We offer easy to use and ready to print personalized turnkey solutions with preloaded fonts and clipart galleries and also with detailed user manuals and training videos. We are also available on Google+ and Twitter .