Businesses implement marketing programs that entice customers and clients to purchase their service and products. It could range from discounts, bargains, and raffle promos and lately the trend is all about shipping. Delivering an item in a timely manner, good condition and well packaged increases the likelihood that you are getting repeat customers. The way a customer receive their purchase is considered part of their customer experience, hence a good method of logistics directly affects your customer perceive your business.
Because of the presence of e-commerce and digitalization, many businesses do not have boundaries anymore. Your products and services can reach the other side of the world in one click, at least virtually. To materialize your reach, you need today's available logistics and shipping methods to physically reach your customers. This occurrence provides businesses with many advantages and reasons to succeed, but it also creates a whole new band of challenges. In order to keep your customers happy and your business thriving, here are some solutions to your logistics problems.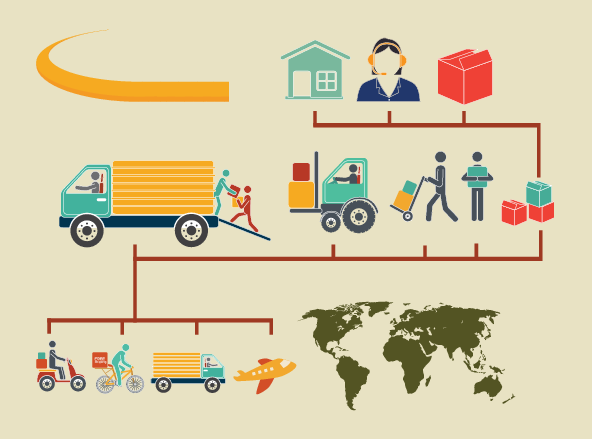 International Shipping Complication
You started your business locally and made your brand known regionally but now that your trade is penetrating the international market you need to make your service and products readily available to them. Shipping internationally is more complicated than your regular post office casual visit. It requires a whole lot of paper works, duties and taxes. International shipping is complicated by a variety of factors like packaging size, weight, country of origin and destination. To make things easy and breezy for you, you can make use of online shipping calculators. This process are offered by many major mail carriers like USPS and FedEx. This process will help you ship faster while going through the maze of bureaucracy.
Timely Delivery
You probably heard about the saying "Time is money", and that is greatly emphasized in shipping and logistics industry. Delay in shipping and delivery can cause you financial loss and unsatisfied customers. To prevent delays and ensure that your items are received by your customers in a timely manner you need to implement measures. You can opt to negotiate with several major carriers. This will enable you to have options and choose the one favorable to your time sensitive needs. You can also consider regional carrier. They can provide you with specific networks that can cater to the needs of your customers in certain locations. If all things fail, you can create your own solution by managing your own delivery and shipping program.
In the beginning if you want a low risk option you can rent them temporarily so that you are struck with a fleet you can't pay for.
Expensive Shipping
Shipping is considered an added cost to many businesses. There can be as many as 75 additional charges, from fuel surge fees to holiday pay, when you choose the service of shipping companies.  To maintain a positive cash flow make sure all delivery charges are carried by your customers, after all they are paying for their convenience. To create a more cost-effective shipping method you can try prepaid shipping by major carriers. Prepaid shipping is a delivery agreement wherein you buy a certain amount of shipping tag and use them on demand or as needed. Availing this shipping arrangement will qualify you to save as big as 20 percent from discounts offered by the carrier.
Proper Packaging
To prevent delay and return or damaged items, you need to make sure that your items are proper packaged. Carriers are very meticulous when it comes to packaging. In Amazon fulfillment centers, incorrectly packaged items go to a long and thorough further inspection. This additional inspection can cause you extra money and your items to be delay for as much as two days or even worse return to you. If you want to prevent this interruption, make sure you adhere to the packaging requirements of your carrier. Use the packaging provided and required by your delivery provider.