Social networks, with billions of users and counting, are an efficient marketing channel for most business sectors including eCommerce. Branding, communication and traffic are the 3 major benefits of leveraging social media sites.
The emergence of diverse social media sites and their massive popularity means there is a treasure trove of marketing opportunities just waiting to be tapped by businesses irrespective of their size. Instead of investing all your time in just one social media platform, it is better to invest resources in different social media sites; pick those sites where your target audience spends the most amount of time so that you can optimize their potential to the hilt.
Here are the 4 social channels that you should integrate with your digital marketing strategy to increaseyour eCommerce revenues:
Facebook
Facebook is the most popular and frequently used social platform with over 1.23 billion monthly active users around the world. There are plenty of ways eCommerce store owners can engage consumers via Facebook.
Brands can post quality content related to their industry, host contests, create polls to know consumer opinions, announce new products, solve customer queries,or post photos and videos of products.
To boost follower count, brands can provide discounts or offers that are exclusive to Facebook fans.Include links in your profile and relevant images that leads consumers to the point of sale. This directly drives traffic to your ecommerce site and helps consumers avoid a separate internet search for the product they wish to purchase.
Facebook recently announced that it is testing a new Buybutton with a select group of retailers that lets followers instantly buy products without leaving its site or app. This is again a feature that can increase your sales figures, if used right.
Oreo, the world's most popular brand of cookies has one of the best Facebook pages. It has a huge follower base with 37 million followers. The company has truly embraced successful Facebook marketing strategies and provides its fans with quality content and resources to have solid engagement with them.
Twitter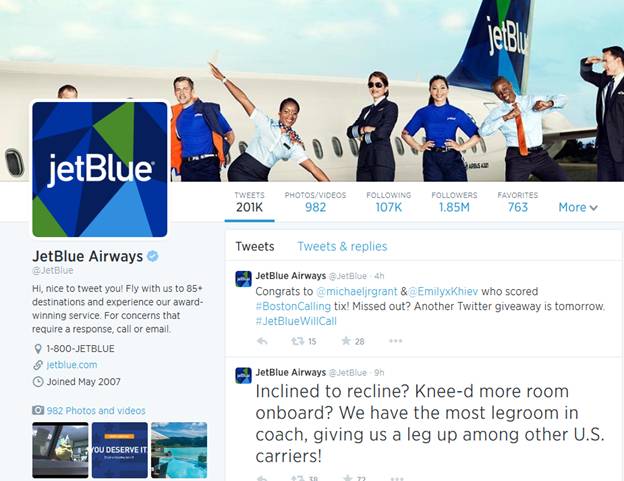 The number of daily active Twitter users has surpassed 100 million, and the number is growing rapidly. The likelihood that many of your customers and prospects are already on Twitter is very high.
Twitter is a powerful tool for all eCommerce store owners, and can easily be used to increase customer engagement and sales.Brands can use twitter for customer support, market analysis, competition research, connecting with potential customers and networking with brand influencers.
You should give people reasons to follow you on Twitter. Tweet about – sales and discounts, get feedback, offer free stuff, tweet pictures of your products used by satisfied customers or tweet links to recent blog posts to attract followers. Using relevant hashtags will improve chances of your tweet getting noticed by non-followers.
E-commerce stores are leveraging this micro-blogging platform in different ways to boost sales. Recently, Amazon introduced a new feature that lets Twitter users add items to their Amazon carts by including a hashtag within a tweet. This will not only help the store reduce purchase friction but will also help in product marketing – since users would publish tweets indicating which items they are buying from Amazon.
JetBlue Airways is one of the top airlines in the world. Ithas more than 1.85 million followers on Twitter. JetBlue is known to be extremely responsive to customers on Twitter where it engages with happy travelers and responds quickly to help frustrated customers. @JetBlueoffers exceptional customer service on Twitter.
Pinterest
While Facebook and Twitter are the top social networks among online retailers, social photo-sharing site Pinterest is also a good option. According to reports, in 2013, 78% of top retailers actively used Pinterest.Pinterest has developed a lot of tools to help E-commerce stores make the most of their social network.
Label your images with some text that describes your product and contains as many keywords as possible. This way when someone pins one of your products, they will be including a caption that will make finding your products easier, plus increase its chancesof getting repins and shares.
Pinterest also offers a feature that allows stores to include price, their URL and stock availability on pins; this massively increases the amount of clicks your products get from potential shoppers.
Pinterest recently launched analytics tool for businesses that use its service. The new analytics platform is capable of providing meaningful insights about what your customers are interested in.
GE, a multinational conglomerate corporation is an excellent example of a company with a fabulous Pinterest board. It has attracted 23,000 followers on Pinterest. Featuring quotes from Thomas Edison (the founder of GE), the pins use typography to make engaging visuals.
YouTube
YouTube is the biggest and most popular platform for any video-based marketing. Over 6 billion hours of video are watched each month on YouTube. For this reason, many brands are investing their marketing dollars in a branded YouTube channel to generate leads and boost sales.
Videos can be a hugely powerful tool when it comes to influencing a purchasing decision by an online shopper. But just like poorly designed websites fail, poor quality videos also don't work. A poorly thought out video will turn off users and they will not come back.
The ideal way of creating videos for YouTube is to first set out objectives of the video and make sure your keep your target audience's expectations in mind. Apart from quality, load time is also really important; you might have a great script and engaging content, but if the video takes too long to load, people won't wait to watch it. Also ensure your videos on YouTube include a call-to-action and social sharing options.YouTube is also a great way to garner social signals for SEO.
TRESemme, a brand of hair care products has an impressive YouTube channel. It has nearly 13,000 subscribers. On the TRESemme channel, videos showcasing various hair products are accompanied by links where viewers can find which retailers stock them, check availability, compare prices and make a purchase.
Facebook, Twitter, Pinterest and YouTube are the most popular social channels which when used correctly can lead to an increase in brand awareness, referrals and sales. Review your digital strategy and leverage these channels to increase website traffic and boost profits!
Author Bio:
Michael Georgiou is a dynamic business professional and entrepreneurial guru with a proven success in creative strategy, online branding, project management, and communication projects in both the public and private sectors. He drives Imaginovation's rapid business growth in marketing and sales due to a multifaceted and versatile communications experience with a reputation for providing innovative turn-key digital solutions, and a steadfast approach for managing teams to provide high quality web products and services in numerous industry verticals. A large portion of Michael's experience is working with reputable clients in delivering a wide range of solutions for web design and application development projects, as well as managing the user interface and user experiences on a high level marketing perspective. Michael holds an international Master's degree in Business Communications Marketing from Bond University in Australia, and a Bachelor's degree in Public Relations and Marketing from UNC Pembroke.