As a copywriter, a good portion of my job involves staring at a blank Word document. Some days, the topic is just right and the stars have all aligned and the ideas are flowing onto the page. Other days, however, I'll suffer a mad case of writer's block. It happens to the best of us. And with deadlines to meet and editorial calendars to maintain, we writers can't just walk away from the computer and wait for inspiration to strike before starting back up. We have to get something on the page.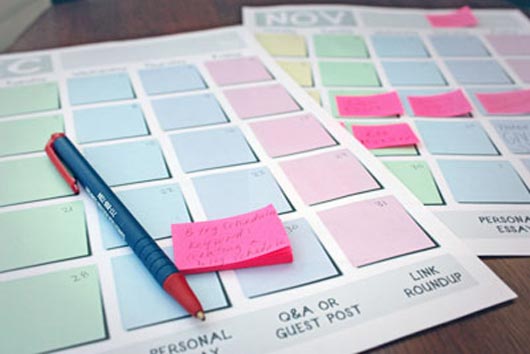 This is especially true for blogs, which enjoy higher rankings and more engaged readers when fresh content is posted regularly – depending on the blog and readership, bloggers might post new content every two or three days, or even every day. No matter what your blogging schedule looks like, there are certainly those days when you just can't think of a single thing to write about. Below are some tips that can help you stay on blogging schedule, even when you don't know what to write.
Compile a list.

If you're a blogger, you're likely following other blogs within the same niche and constantly staying up-to-date on industry news. After all, being in-the-know is crucial to establishing your blog as a trusted, authoritative source. Share a list that comprises your favorite blogs, articles that have caught your attention, helpful resources from around the Web. Let your readers know what you've been reading.

Assignment days.

When you assign certain days to a specific theme or topic, it can make it easier to get a post out for that day. For example, you can start "Headline Hump Day" by dedicating Wednesdays to a collection of that week's biggest news stories relevant to your industry, or a thought piece on how a big news topic affects your industry. You can even get your readers involved by encouraging them to join in every Wednesday on their own blogs, which provides a great opportunity to exchange valuable links.

Be brief.

Not every blog post you write has to be 800 words. Sometimes, a single powerful image and a few short sentences can get your message across just fine.

Guests posts.

If you can't think of anything to write, have someone else write for you. Guest posts by other reputable bloggers can increase traffic to your own blog, bring a new, fresh voice to your blog, and enhance your relationship with other bloggers and readers. You may also want to consider writing guests posts on other blogs to help expand your audience. If you plan on accepting guests posts on a regular basis, publishing editorial guidelines upfront can help save everyone a lot of time.

Book reviews.

Publishing companies will often send books to writers to review on their blog. Or, if you've found a book that really interests you and that you'd like to review, you can contact the publishing company's public relations department and request a review copy. Or, just write about books that you own, have read, love or hate. You can also review gadgets, applications, tools, websites – whatever is most relevant to your blog and your audience.
Do you have any other tips, suggestions or ideas? I'd love to hear them!
Jacqui MacKenzie is a writer for Straight North, a Chicago web design and Internet marketing firm that works with a diverse set of clients – from arc flash protection clothing manufacturers to providers of credit card merchant processing services. Check out the Straight North blog, or connect with us on Facebook and Twitter!