Today, Web development and Web design have been changed a lot in an exciting way with the appearance of HTML5. HTML5 are most likely to take the place of its predecessors like Adobe Flash and Microsoft Silverlight in the coming future for it offers a wide range of advantages for the Web without using proprietary plugins. HTML5 also provides outstanding capability in dealing with multimedia performance, including but not limited to video, audio, and of course, games.
OK, now I am going to introduce you 5 interesting HTML5 games which probably suit all tastes. All these 5 games are free and are able to play in your Internet browser now. What you only need is an HTML5-compatible browser, say the latest versions of Firefox, Chrome, Safari, Opera, and IE, etc.
Solitairey
Solitairey is a free card game like any other old guys that has been played by generations. But Solitairey provides more than 30 different types to play here, such as the Pyramid and Grandfather's Clock with beautifully pleasing layouts. It plays even cooler than it looks like, so it is the best choice for card players who have spare time to spend.
Cut the Rope
Cut the Rope was designed by the Russia game developer ZeptoLab in 2010. It is one of the most popular games among smartphone holders at first, and last year it was ported to HTML5 as a showcase of the new IE browser for Windows 8. It is really an interesting game with a cute cartoon frog playing out there which makes the game more appealing to girls and kids.
Save the Day
Save the Day is a funny action game mainly requires you to rescue the hidden survivors on a map in a limited time with a helicopter. It was developed using the HTML5 game platform called Turbulenz that can create and monetize HTML5 games, supporting Social Application Program Interfaces, WebGL, etc.
Lux Ahoy
Lux Ahoy is a simplistic turn-based Strategy game. You need to take part in one of two warring pirates by firing the cannon balls with power and angle controlled. Fans of Angry Birds, and pirates will get lots of fun in this game.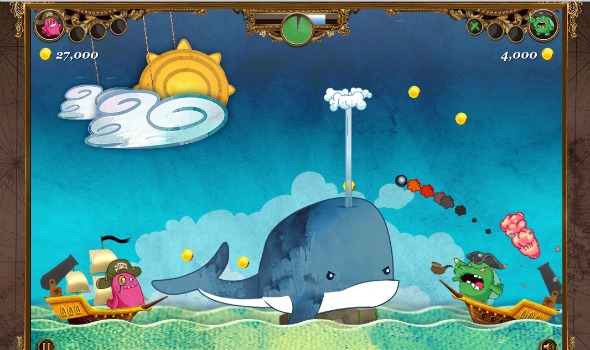 HexGL
HexGL is a futuristic Wipeout clone racing game that is likely to be the coolest game you've ever seen among all HTML5 types. HexGL allows players to customize the video quality, so it could be played smoothly even in old computers.
Conclusions
In the 5 games listed above, you may unconsciously spend your spare time for a considerable length. There's no denying the fact that HTML5 games can be played smoothly in your browser without using any plugins or other widget. Whatever types the games are, either a classic card game, a pirate clash, or a racing game, HTML5 games could be perfect time-killers. So do you think HTML5 will really be the future leader of games? I'm looking forward to seeing its development!
James Black is a Web designer who specialize in Flash and HTML5, currently developing a new online Flash to HTML5 Converter to help users easily transit from Flash to HTML5.