Blog spam is not a new problem—but it sure is an annoying one. At its worst, spamming is nonstop, obnoxious, and irrelevant. You get constant notifications, your readers see weird responses on your site, and you can barely keep up with rejecting the spam as it comes. What are you supposed to do? How do you stop the spam in its tracks? To help answer those questions, here are a few smart strategies for keeping spammers at bay.
Set Strict Comment Parameters
The first step towards blocking spam is using the built-in tools that come with your site. Within WordPress, you have options to protect your site from spam simply by setting stricter parameters for comments to pass through. Go to the part of your "Settings" tab marked "Discussion," and adjust your settings.
Require Name and Email: This is a pretty elementary tip, but it's still worth mentioning. Protect against spam by not allowing anonymous comments. Require every commenter to leave his or her name and email.
Require Comments to Come from Approved Users: Set up your site to only automatically approve comments that come from already approved users. This means, for example, that your fellow blogger who regularly responds to your posts will have no problem getting comments cleared, but the spammer will. New users' comments will go to a queue where you must approve or reject them each time.
Pause Comments with Links: Because spammers often intersperse heavy HTML in their comments, but most people don't, hold all comments in the queue when they have one or more links. Sure, you'll have to moderate these comments manually, but you'll also protect your site from spam.
Use a Spam-Blocking Plugin
Another valuable weapon against spam is a plugin. WordPress offers a variety of spam-blocking plugins, each of which will help counter the attacks as they come. Here are a few to consider:
One of the most popular, well-known plugins for blocking spam, Akismet is easy to install and use. Once set up, it works to protect your blog from spam without requiring anything else from you.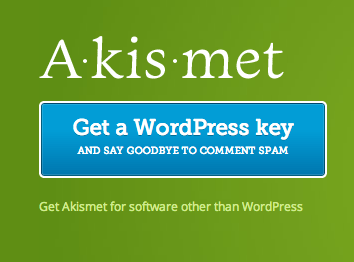 If you're just looking to stop automated spam, go with Growmap. This plugin won't catch trackpacks/pingbacks or human spammers, but it will catch the typical bots that send out spam.
Use CAPTCHA
Although Completely Automated Public Turing Test (CAPTCHA) tools are not without drawbacks, they are a good way to protect your site from spam. In some cases, they discourage genuine commenters from responding, and they can be hard for people to read, but in return for their frustrations, CAPTCHA tools do block robots and fake users. When you're desperate for a way to stop spam, CAPTCHA is a good option to try. To implement this resource on your blog, download the reCAPTCHA plugin.
Use a Third-Party Comment System
Pull out the big guns against spam by throwing out your built-in commenting software and going with an outside provider. Services like Disqus, Livefyre, and IntenseDebate will work against spam, while also giving your readers an improved commenting experience. Some of the benefits include easier follow-up, streamlined commenting across sites, increased security, and more.
Your Thoughts
Have you seen an influx of spam on your site from time to time? What have you done about it? If you're still trying to thwart pesky blog spammers, why not try the tools outlined in this post?
Shanna Mallon is a writer for Straight North, a StraightNorth.com with headquarters in Chicago, providing SEO, Web development, and other online marketing services to B2B clients.