For some SEO is simple, while for others it's a dangerous animal. It's dangerous because you don't know how it will behave. It's unpredictable, frivolous and follows the master – Google. In this situation, your competitor is probably your best friend.
Which keywords is your competitor using?
I assume you know your competitors. Even if you don't it doesn't matter. You simply search for a specific keyword and you will get a list of competitors. These websites are doing well and we might as well look at their keyword strategy. To do this, you first have a look at the source code. In Chrome, you select   Wench – Tools – View Source. In Firefox, you must select Tools – Web Developer – Page Source. By doing this you will get to see the source code of the page. Sometimes and to some people this code will be daunting. My advice is not to be afraid. Go forth and explore the jungle. Once you get used to it you will access some of the most useful information. You will know which keywords and combinations are used by your competitors. You have to simply replicate the same. Let me tell you that this strategy works and works well.
Getting a handle on backlinks
With the latest Panda update, Google search algorithm has taken a massive tilt towards backlinks – also called reputation by Alexa. You must therefore know which all links your competitor has managed to get. There are many tools out there which track backlinks. The best among them is Alexa. It's also free. By using Alexa you will know exactly which sites are linked to your competitor. This is a golden mine of information. For example, my website deals with car title loans and I simply tracked the backlinks of my competitor using Alexa. This took me less than a minute. Within a week I had over a hundred qualified links back to my site.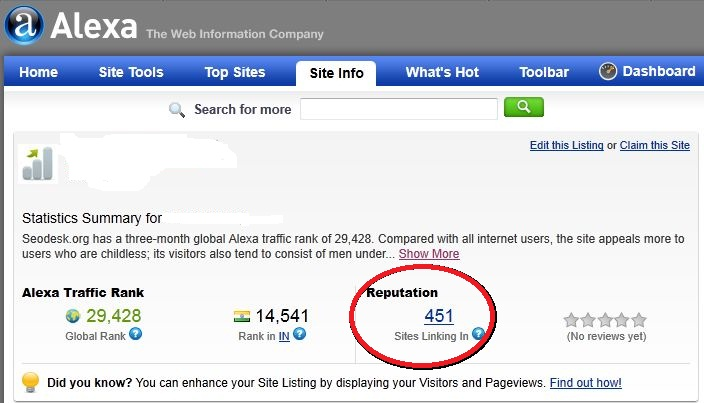 Extracting other secrets
The above two strategies should do 99% of job. For the rest you may have to ferret around a bit. Eventually, your strategy would depend upon your competitors. This will give you a head start since others have already done the ground work for you. You don't have to begin from scratch.
One of the important factors for SEO is semantic search. I realized early on that I can use 'auto title loans' in combination with 'car title loans' since searches are more or less equally divided among these two keyword phrases. This further optimized my site though I cannot give a definite quantum of improvement.
Conclusion
In SEO you don't have to be the best – you only need to be ahead of your competition. If you know what they are doing, you can do it better. SEO can become far easier and fun by following your competitor who is also your best friend.