In case you haven't heard about mightydeals.com, well these lines will give you all the information you should know about it. From this article you will become acquainted to a website that was created out of the desire of offering deals for designers. Therefore, if you needed something like this, then you will definitely like to become aware of the following matters.
To begin with, this page offers high quality products, coming from trusted partners. As a result, there is no reason why one should fear or question the worth and value of the items. So, it is mandatory for every customer to become aware of the fact that once they have bought something from mightydeals.com, they have nothing to worry about.
The reason why this website has this name is due to the fact that it actually offers mighty deals. They do their job right and they closely negotiate the prices, so that they will be able to offer incredible reductions of50% to 90% off. So, when it comes to this webpage quality comes at an extremely low price.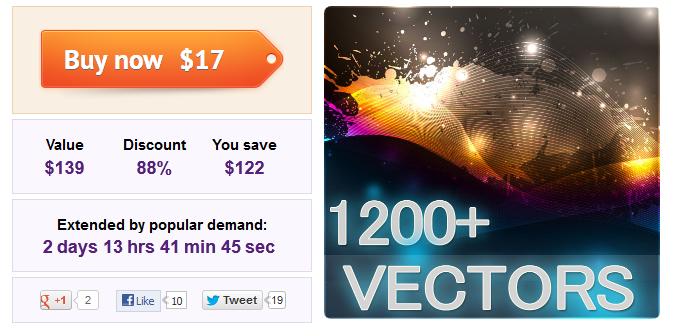 Besides of the low numbers, people could also find here some free stuff. For a limited period, they allow their visitors to download certain items for free. These items could be: e-books, vectors, icons, templates, user interface kits, and so on. Anyway, this is definitely a great gift that people could only get if they will make sure to receive information about their daily deals.
There are some ways through which people could never miss information about their discounts. They could either subscribe to their newsletter, and thus they will receive an e-mail with more details, they could like their Facebook page, or they could simply follow them on Twitter.
But if you are not interested in buying items that could help a web professional, but in selling such products, then you should learn more about the "submit a deal" process. These people are encouraged to offer some information about their services and objects and if the mightydeal team considers them to be suitable, then they will receive instructions, concerning the next steps.
However, if this is not the case for you, but still you are interested in earning some money, well there is a solution for you, too. This solution comes in the shape of the affiliate program. People who own a blog or a website, or who just have a Facebook or Twitter account could get 25% on every purchase that was made from their referral links. However, this implies that their visitors or friends would be interested in purchasing items they could use for designing or developing a website.
Oh, and one more thing web designers should know is that the process of purchasing a product is extremely simple: they do not need to create an account on the website; they just have to choose it and pay it through their PayPal account or using a credit card. Therefore, the notions one could use in order to describe this website are: simplicity, clarity and quality.