Every so often, companies come along with a fresh and innovative take on the standard office environment. They're usually very successful businesses (how else could they afford to spend so much time and money on office design, right?), but that doesn't mean you couldn't learn a lot of from these firms and replicate their ideas in your own workplace. Throughout the course of this short article, I'm going to highlight no less than seven fantastic offices from which you could take inspiration. So, fasten your seatbelts because this ones going to get pretty exciting.
1 – Google In Zurich
There are many different Google offices all over the world, but for some reason, it's their building in Zurich that gets the most attention thanks to its alluring features and somewhat spaceage atmosphere. It might be a few years old now, but it's still very impressive. Inside are working pods, inflatable seating, turned over boats, and just about everything else you would expect from the online giant.
2 – Ogilvy and Mather In China
You knew the Chinese would get in on the action too, right? Well, the headquarters of Ogilvy and Mather in the north has been the subject of much attention thanks to being one of the most unusual workplaces in the world. Here, you'll find seemly outdoor spaces indoors, with real grass underfoot throughout most of the building.
3 – Yandex In Russia
For those of you who don't know, Yandex is Russia's largest internet search engine, so, much like Google, they have high ambitions when it comes to striking office designs. Apart from having the world's largest wrist watch in reception (around 13 feet high), they've also got some pretty innovative ceiling designs that allow for better temperature controls.
4 – Vodafone In Portugal
If you arrived in this office without taking a look at the outside, you probably wouldn't think it was anything special. However, the building itself is an architectural masterpiece created in one of the most visually stunning ways possible. When it was first unveiled, people couldn't believe it was capable of supporting itself.
5 – ANZ In Australia
It doesn't take a rocket scientist to work out banking companies would be interested in getting in on the action, and that's just what they've done in the land down under. The ANZ headquarters is one of the largest open plan offices in the world, with few walls to be seen anywhere. Also, they're obviously huge fans of indoor plant hire.
6 – Red Bull In Amsterdam
We all remember how stunning the old Red Bull offices were in London, but this time they're really outdone themselves. I wouldn't like to suggest the architects were sampling legal herbs during the design stage, but I can't think how it would be possible for them to come up with something so cool using any other technique.
7 – Skype In Sweden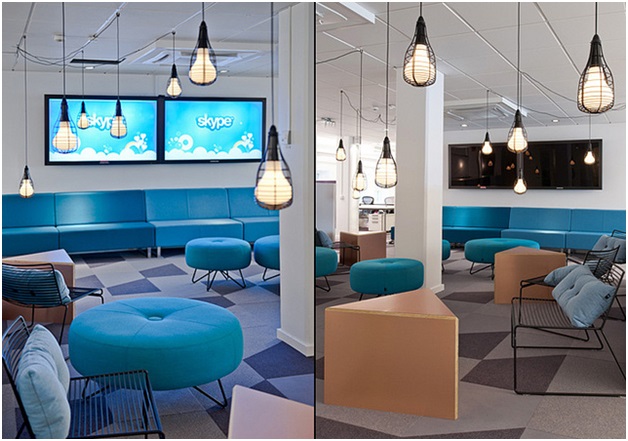 You might expect an internet giant to have a huge office with many different stairways leading to board rooms, conference rooms and much more. However, the people at Skype don't agree. They decided to build a relatively small office in Sweden that look almost as if it was kitted out by the good people at Ikea. No surprise there then!
Now you've read about some of the coolest offices in the world, I wonder whether you'll have the drive and motivation to create something eye catching for your business?
If you do, don't forget to send us some photographs!