If you've clicked a mouse in the past year, you've probably been been exposed to the latest marketing buzzwords like engagement, influencers, and authority. Do you lie awake at night wondering what it all means? Do you stare at yourself in the mirror and ask "am I an influencer?".
Hate to break it to you, but if you have to ask, then you're not.
But you can be.
There's a lot to be gained from social marketing. So much in fact, that most experts would agree you're setting yourself up for failure if you don't embrace its necessity.
With so many blogs, content creators, and experts vying for your attention, it can be hard to know where to start.
Lucky for you, I've already done the hard part.
I've taken the time to thoroughly examine any blog worth a damn, and I've picked the cream of the crop to save you time and energy. Read on, become enlightened, and start your journey to becoming a social media giant!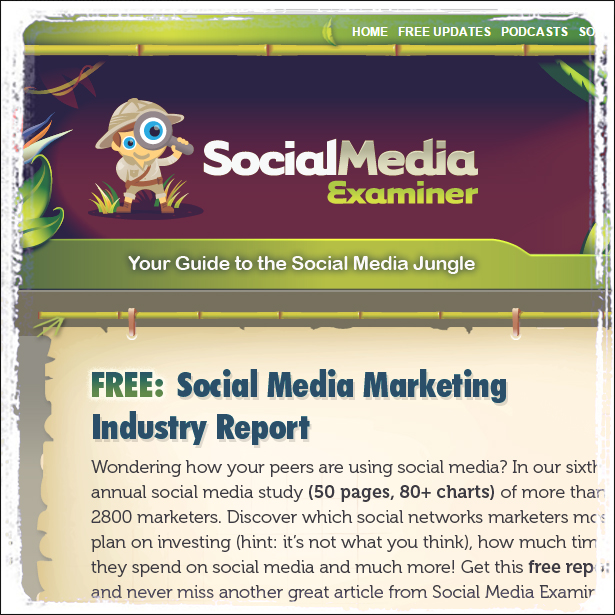 If there's one blog you need to bookmark and make a part of your daily routine, it's this one. There's just so much content being created and shared here that it can honestly be hard to keep up. But it's all so insanely well-done and relevant. I don't know how they do it. In depth and engaging reads are the norm, and so is a focus on actionable content. You're given ideas and the know-how to execute and implement them into your social media strategy.
I'll admit it: I'm a biased fan of Buffer. I don't know how I would manage my small business's posting schedule without their app and Chrome extensions. Irregardless, their blog is widely hailed as a fantastic source of insight when it comes to social media and how you can use it to boost your traffic. I love the unique "buffer chat" posts, and you're guaranteed to find something interesting every time you comb through their archives.
Let me just start off by saying "what a beautiful blog!" Razor Social is the product of Ian Cleary and it's singular focus is to help businesses leverage social media to their advantage. Do you struggle with how to actually get something out of Pinterest? Would you benefit from tips and tricks to streamline your twitter experience? Look no further!
RankPay provides SEO and Social Profile Management services to their clients, but (more importantly for our purposes here) they also have a fantastic and active blog. You'll find a diverse group of topics covered here. Social SEO and content marketing get a lot of love in particular, and I'm pleased to report that it is all actionable and high quality.
Let me ask you a few questions: Do you like numbers? Does the word "analytics" get you excited? Does interesting data inspire you to deliver impassioned monologues to your friends and family who probably just wish that you'd shut up? If you answered yes to any or all of the questions above, Simply Measured has just the blog for you. These people are obsessed with numbers and data, and more than happy to share the results of their collection and analysis with their audience. Great stuff for the math junkies, and some gems for you and me too.
Socialmouths has been voted one of the best social media blogs on the net by the likes of Social Media Examiner, so there should be no doubt in your mind that it's worth your time. Actionable content that cuts through the BS is really refreshing to see, and you should do your part to support it as well. It's also worth mentioning that the author, Francisco Rosales is astute and doesn't take anything at face value. Expect to see some of your favorite social media myths debunked. You've been warned!
Mark Schaefer deserves your thanks. He's widely regarded as one of the internet's foremost authorities on marketing and has curated one of the most relevant and useful blogs on the web. Period. He writes some lengthy articles but they're never boring or filled with fluff. They're in-depth and exactly what a lot of us need to see. Take the time to read this content, don't skim it. You'll be the wiser for it!
This is probably the most visually inspiring of all the social media blogs listed here. We could all learn something from Dustin in terms of both website and post design/layout. Simply gorgeous. Luckily his writing is as equally impressive as his talent for aesthetics. He shares a variety of tips, tricks and strategies aimed at increasing your social exposure and teaching you how to create better and more engaging content.
At Social Media Explorer you'll find some seriously deep thinkers. You can probably tell from just glancing at the posts listed below that this isn't your standard fare, and that's what I love about it. Some of the articles dig deep into the mind of marketers and ask some pretty tough questions. Introspection is a good thing, let's embrace it.
Social Fresh doesn't set out to reinvent the wheel. It's most useful to you as a one-stop location for all your social updates, news, and some generalized tips and tricks for the most recent trendy apps and tools. You'll also notice the snappy and easy-to-use design/layout. A lot of blogs that publish this much content get messy and hard to follow, which is thankfully not the case here!
There's a lot to love about Hootsuite. Whether you're talking about their app or their blog, both are dedicated to making your life easier and helping you save time. The content here is extremely actionable, and that's something that I can never get enough of. There's not much I enjoy more than reading a post and walking away with a few ways to immediately improve my workflow (and social presence). That's pretty much the experience you'll have anytime you load up this blog.
This is a seriously important blog. The content is all highly actionable and it's a great place for newcomers to get their feet wet with blogging/social/content marketing. Small business owners rejoice, this is the resource for you. If you want in depth analysis and numbers, refer to Simply Measured etc. But if you're seeking thorough and useful guides to help you overcome common obstacles, your search stops here.
Name ring a bell? Probably. Jon has been a downright prolific presence on the internet for a number of years now, and his content is of the highest caliber. From courses and ebooks to podcasts and guest posts, it's hard to look far on the internet without stumbling upon some of his work. That's a good thing too, trust me. I don't usually condone blind-faith, but this guy deserves it!
Brian is an outlier. A self-proclaimed analyst, anthropologist, and futurist, his posts are generally thought-provoking and deeply insightful. There is no regurgitated content to be found here. He has a keen interest in how technology affects our daily lives and culture.
Derek Halpern is a genius. There, I said it. One look at the visual cues and headlines within his blog and you'll know he's the real deal. Specifically focused on the psychology behind marketing and social media, Halpern guides his audience to a greater understanding of what truly goes into the making of a successful marketer. This is must read/listen material.
About the author
Tony Miller is a clever copywriter who loves to educate and entertain. From skydiving to snorkeling, I love it all. Life at an inbound marketing agency is awesome-sauce.