We all remember when Pinterestbecame the fastest website to surpass the 10 million mark and when Instagram was acquired for $1 billion. The news was everywhere, users were excited, and designers saw an opportunity. Design and photography was finally being brought to the forefront of social networking, so this was a great opportunity for designers to really get their stuff out to the public. However, now that the enthusiasm has died down and focus has shifted back to the latest Twitter and Facebook news, it only makes sense to ask that inevitable question: Were these social networks really worth all the buzz?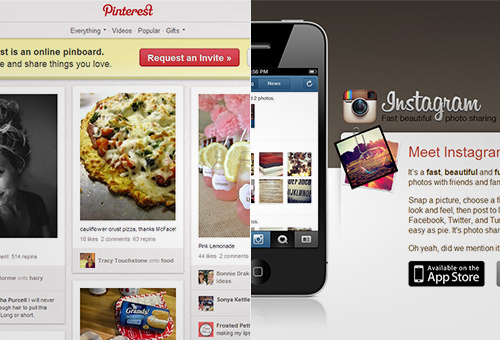 Designers have no doubt been active on these two sites, but it's important to really analyze whether or not these sites have made a difference for designers in terms of not only visibility, but actual sales and conversions.
Pinterest and Instagram: The Facts and Statistics
First, Pinterest.According to Business Insider, Pinterest actually lost users in April of this year. The site's monthly active users were down from 11.3 million in March to just 8.3 million in April. The decrease was certainly unexpected because Pinterest was still getting a large amount of news coverage in April. However, Pinterest grew to the size it is today with little coverage. Whether or not this is only a temporary setback or people are really "over" this site we can only tell in time.
Second, Instagram, Fortunately, the news here is a little bit better. The site's cool filters allow anyone to create a photo that looks professional, and these photos are more widely seen (as opposed to Pinterest where users don't generally upload the photos). However, the very nature of this site has many wondering whether or not it's really ideal for designers. Do users really spend time looking at photos posted by companies? According to an infographic from Digital Buzz Blog, there are nearly 58 photos uploaded each second by users.
Why Pinterest and Instagram Are Still Worth Your While
Although the number of users might be down, there are plenty of reasons that design websites and agencies should still get involved. A few of these reasons include:
Easy to Use – Pinterest and Instagram are easy to use. It only takes a few minutes to upload an image and create a caption, so you can do this quickly and without having to hire someone or spend any extra money.
Visibility and Connections – Even if your followers don't make their way to your website, you are still gaining visibility and making connections. This could eventually lead to a referral or a backlink in the future.
Portfolio – Both websites serve as a great portfolio. If you are ever trying to land a client, consider sending them your portfolio in addition to your Pinterest or Instagram accounts. Chances are your client will be more likely to take a look on the medium that they've seen before—the social networks.
Still Successful – In comparison to many other social networks and other websites, both of these are still extremely successful when looking at their number of users. Try not to compare the same social network months apart, but compare it to other sites.
So was all of the commotion over these social networking sites worth it? Most would say yes. This is one of the first times that social and design were brought so closely together, and even if the enthusiasm for these two sites doesn't last, this proves that there is a market for this type of content. Just as with MySpace and Friendster, something bigger and better might come along, but it's good to know that design is becoming an integral part of social media. There are still plenty of reasons to put your heart into these two sites in the hopes of a few conversions or some increased visibility.
Do you think that Pinterest and Instagram were worth all of the news headlines they received? Let us know why or why not in the comments below!
Amanda DiSilvestro gives small business and entrepreneurs SEO advice ranging from keyword density to recovering from Panda and Penguin updates. She writes for HigherVisibility, a nationally recognized SEO consulting firm that offers online marketing services to a wide range of companies across the country. Connect with Higher Visibility on Google+ and Twitter to learn more!