As a very recent college graduate, I know the difficulties that come with choosing a major. After all, this is what you're going to do for the rest of your life. At least that is what most college students think. As it turns out, there are tons of opportunities available for college graduates even if you don't have the exact degree. For example, I graduated with a degree in Secondary English Education. Never in a million years did I think I would be working in an Internet marketing department dealing search engine optimization (SEO). Aside from my lack of a degree, a big part of the reason I never imagined this for my life is simple: I didn't know SEO existed.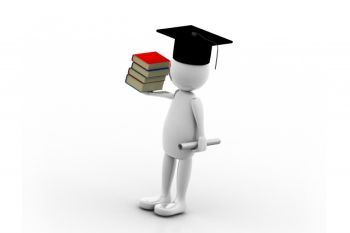 In many ways, I got lucky. I love my job despite never being exposed to SEO prior to applying for a writing position. I had experience in writing and of course English, and that is exactly what an SEO department needs. Guest posting (like what I am doing now) is a great way to improve the SEO of a company website. This led me to wonder: Can you get a degree in SEO?
Colleges and Universities Reaction to Internet Marketing
SEO falls under the "internet marketing" umbrella along with pay-per-click (PPC) methods and social media. This is one of the few fields that is continuing to grow and be successful, and many colleges and universities are starting to realize the value in internet marketing lessons. Unfortunately, most universities are slow to create an entire major/degree around this field.
If you're interested in getting a degree in online marketing, you will likely have to take an extra course to gain your certification in Internet marketing. Most people don't even go on to earn a certification, but rather take matters into their own hands by doing a few different things:
Get a degree in a related filed such as marketing or communications. This will help give you the edge, and chances are your school will teach you a little bit about internet marketing.
Start your social media efforts now. Begin following experts in the field on Twitter, and talk with them through these platforms. Let them know you are interested in Internet marketing, and you will likely be surprised how many people are willing to help. They love the Internet and connecting with people after all!
Read as many articles as you can on the subject. Learn about analytics and keyword research. Once you have a few questions formulated, bring those to your professor or to someone you have connected with online.
Do what you can to learn about web design. Although many schools are behind when it comes to internet marketing, most offer a class about web design and development.
What is interesting about internet marketing as a profession is the idea that no one is going to have a formal "degree" in that industry. In other words, no matter what you may have studied in school, you have as much the opportunity to work in internet marketing as anyone else. It is your willingness to take the initiative on your own to learn something about the industry that will set you apart from the rest.
Have you heard of any colleges or universities offering a degree in internet marketing or SEO? Have you ever taken any higher education level courses about this industry? I would love to hear your take!
Amanda DiSilvestro is a writer on topics ranging from social media to phone systems. She writes for an online resource that gives advice on topics including merchant services to small businesses and entrepreneurs for a lead generation website, Resource Nation.