There is an increasing thing you will notice when you enter Twitter and have a little look around – the customized pages that are spreading across the micro blogging site. There are tens of thousands of these backgrounds and they are not as hard to create or get created as you may thing. They also look great and will massively increase the amount of followers if you do a good enough job – offering you amazing opportunities to expand your business.
So, we've all seen these colored backgrounds with the relevant pictures or text and wondered why? Well there are a number of reasons for customizing your Twitter as we explain below.
Image
Having a customized background of your own on Twitter allows you to create the image that you wish to portray. These pictures give an impression of what you are about instantly – a picture speaks a thousand words and all that. Average companies can create a great corporate image and individuals a wonderful professional one just through the simple use of a background picture. These backgrounds give your profile a more official look and get you off on the right foot.
If you have a website you will want to stand out and create a certain image using colors and text as well as images – so why should Twitter be any different, the same rules apply as far as the message you're creating goes.
Branding
Like any good picture or advertisement a customized Twitter will be memorable if it is good and creates an instantly recognizable brand. Etching your company in people's minds is a great way to gain business and Twitter is the way to do it. It is essentially free advertising space for you and your company – imagine how much money you would pay to get a page on such a site. And if you know how to utilize twitter, you have the world at your feet.
Direct Marketing
How any of us have been bored silly by strings of marketing and selling information from a certain company or another on Twitter or in other social media. By having a good background that is informative and includes things like good photos and text, you are giving information on what you do but not having to infringe into people's lives by turning Twitter into a Turkish Bazaar. This is a subtle and smart way to advertise and market.
Increases followers
By not irritating people you won't lose those hard earned followers, you may also gain some extra ones. Twitter backgrounds if they are excellent can even be a way for you to rapidly increase subscribers and those interested in seeing a design masterpiece. Thinking about what you are going to create or even employing a designer in to do so is a very important part of creating your Twitter background.
So you can now understand that there are not only benefits in having a customized Twitter page, you have also learned what to look out for and why to do it. It's easily done once you know what to look out for.
For your inspiration we have handpicked 15 creative Twitter backgrounds:
1) @EmpireStateRec
2) @moniquegasp
3) @DimaAlMalakeh
4) @SunniBrown
5) @amycham
6) @arjunbasu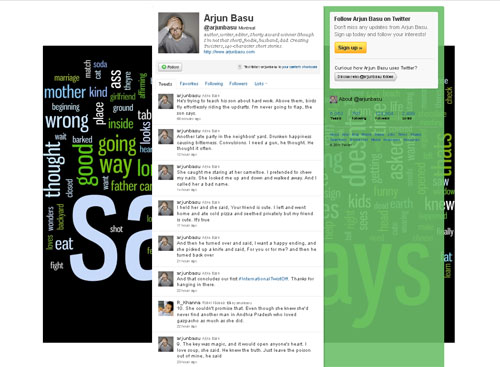 7) @sitepointdotcom
8) @Bllq21
9) @peachpops
10) @laquesefue
11) @marekuk
12) @cheth
13) @redhand_swtor
14) @LisaWorsham
15) @bercutoff
Julie writes on behalf of online coupon codes. Julie is a passionate blogger, designer, SEO and loves to share design and blogging related stuff.