Curtis Kimball began selling crème brûlée from a food cart in the Mission District of San Francisco in 2009. At that time, it was not licensed and thus he communicated to customers through the social networking power of Twitter and Facebook. And now, The Creme Brulee Man has over 20,000 followers on Twitter only. He uses the twitter account for informing customers about the special and new products daily. Just like that, a meager food selling cart became a startling food catering business in the heart of San Francisco just using the Twitter.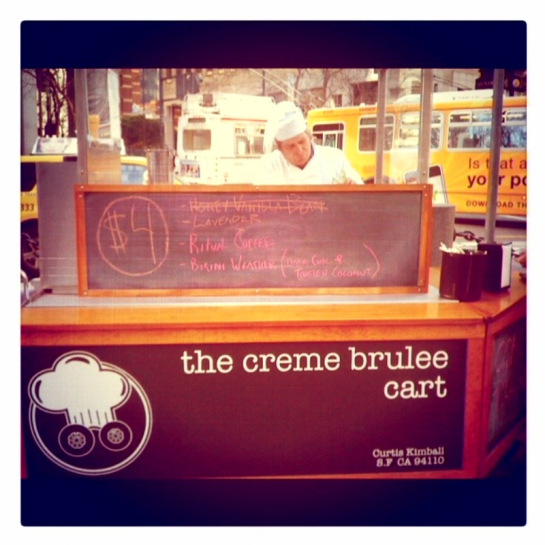 photo by Vanessa Brunner
The above instance shows the true advantage of marketing on twitter, where you can land just by using twitter as a marketing tool. Boost your business to full throttle by making the most of the social network. Here are some tips to spread the word and expand your reach through Twitter:
Engage your CEO on twitter and also encourage other employees for the same. They might not have the time to write piles of text like blogs which is why twitter's micro-blogging technique is exactly what they need to give your company a human face on Twitter.
Follow the influential people and they may follow you.
Tweet regularly so that you can stay on the minds of your followers
Announce deals, specials and sales.
If any event or conference is going on, provide live updates through tweets.
Promote blog, articles, webinars, news and success stories through links in tweets.
Make your employees follow you and retweet so as to reach more customers.
Keep yourself tuned with your competitors and their activities.
Use media like images, videos, a call to action or a retweet request.
Work with lists, create your own and follow popular ones.
Geo-target and save searches for keywords surrounding your brand.
Do not overload your followers with excessive tweets.
Never get too personal and negative towards a particular follower as it disinterests the others who see your tweet.
Don't use corporate jargon if your audiences are the common citizens.
Do not forget to make use of @ and # in your tweets and also do not overload.
Do not tweet on the same topic/service or product repetitively. Diversify your tweets.
Never forget to analyze your tweets and their spread.
The mantra is simple "GET NOTICED AND GET CUSTOMERS". Twitter possesses users from all fields and surely there would be a huge number of users who would serve as your ideal prospects. It's high time you reached them and showcase your quality and stature. So, make the most of your Twitter account!
About the Author
Gagan Mahajan – an Internet marketing professional working with EnablingBiz eSolutions, a leading Internet Marketing and Web Development agency that offers top notch PHP Development Services and result-oriented Social Media marketing services. Join us on Twitter