Every online business aims to achieve the zenith of popularity in order to increase brand awareness and create a positive image among the target customers. Though there is a wide range of ways to increase the visibility in the Web World but Social Media Marketing has emerged as an effective option which helps in establishing a strong and favorable reputation.
Given that people are all over the internet and are making excessive use of social media, businesses have realized that it is beneficial to undertake this form of marketing.
In this write up we are going to discuss social media marketing in detail such as its relevance, how to do it effectively to get results and what benefits does it offer.
Social Media Marketing (SMM) – An Introduction
SMM is a form of online promotion in which businesses promote themselves on all social media platforms including social networks. The prime reason behind this is it provides them an excellent opportunity to reach a large number of potential customers (the users of social media sites are rapidly increasing) with promotional messages. Even if not promotion, a business can establish a connection with its target groups by becoming a part of social networks, a thing which is profitable in long term.
Relevance/Importance of Social Media Marketing
The importance of Social Media marketing comes from the fact the people are actively involved in social media as it gives them the medium to express and share their opinions. Therefore it presents itself as profitable option to businesses to woo the customers and build relationships with them.
What a business can achieve with SMM?
Propagation of marketing messages across existing and prospective customers simultaneously
Drive traffic to the company site
Branding through exposure
Conversions
Guidelines for effective Social Media Marketing
Join relevant social groups
It is not a great idea to create an account on every social platform as many marketers do without realizing that it doesn't yield much. Choose only those platforms where it makes sense to promote the business or which are relevant for business promotion.  Also joining too many groups will only bring in the responsibility of devoting time to each which may not be feasible. It is good to start with one or two initially.
PROMOTE but not ADVERTISE
What is implied here is – Don't let the users feel that your presence on the social network is just to meet mercenary objectives. Rather they should feel that you as an organization care for them and value their opinions. Indulge in healthy discussions and help them sort their queries, if any, in a friendly way. Also social media is an interactive platform to build connections.
Be regular to make your presence felt
Creating a social profile will not deliver any results if you don't let the users know that you exist. Constantly make updates even if it means a simple comment. Such contributions will keep you in the eyes of other followers and they will be paying heed to your updates. But here it is not meant that you make an update just for the heck of it. It must have some significance otherwise the visitors may lose interest. Make sure that you actively participate.
Don't always talk about business, take up some other issues as well
If you talk about things related to your business, it is likely that the users will get bored. Therefore it is a good practice to express opinion on some other important issues that users would be interested in, such as some social issue that is being talked about currently. It will make them feel that the organization also thinks about society as well and will lead to positive discussions. It is a great way to establish goodwill among the customers.
Social Media Platforms to Utilize
Facebook
An excellent social networking with an ever growing user base, it offers multiple opportunities to reach customers. Its high popularity can be cashed in to popularize the products or services.
Twitter
Another popular micro blogging platform, Twitter presents an effective way to communicate with customers and establish connections with them.
LinkedIn
By becoming a member of this professional networking site, you can create a profile and reach the customers. It also offers other useful options to create an online network and you may also come across your competitors' profiles and check what they are up to.
Company's Blog
Though there are so many social media sites that can be utilized for online promotion but you can also create company's own blog. There is a distinct value attached to it and you can directly associate with your customers through it. But it is important to first promote the blog itself to avail the benefits later.
Participation on other Blogs
It is not always necessary that promotion or image building can be done by creating one's own blog or becoming a member of social networks. Your active involvement in discussions on other blogs can provide advantage by establishing your reputation. Once this task is accomplished, it will help you in gaining recognition when you join other groups or start your own blog.
Benefits of Social Media Marketing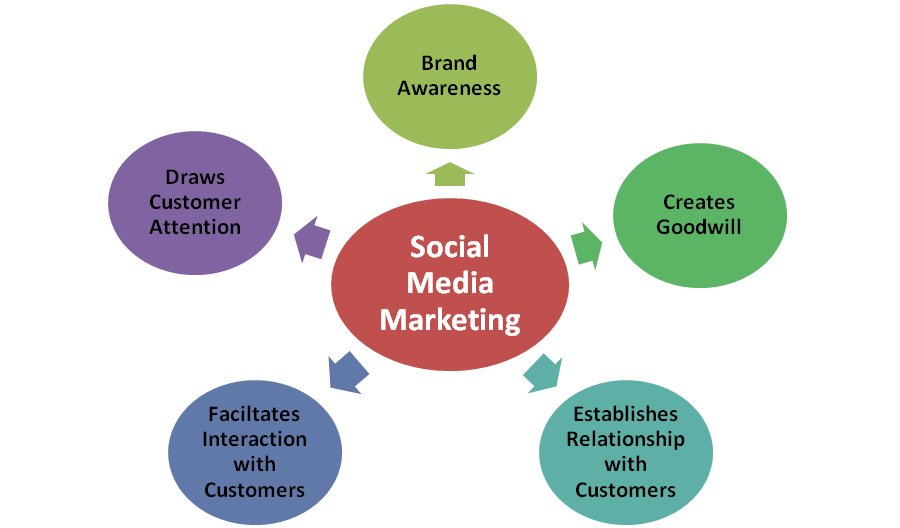 Thus it can be said Social Media Marketing is an efficient means to promote a business effectively in the online world. With people making more use of social media, one can also see businesses adopting SMM to derive its benefits.
Keshav Arora is a Senior Technical Writer with seo-Semantic-xhtml.com, a specialized division of IPraxa. Seo-semantic-xhtml.com provides PSD to HTML, XHTML, CSS and 3rd party application integration.
Follow us on Twitter, and be our fan on Facebook.