High gas prices and commuter gridlock are two big reasons bicycling has entered a renaissance. The number of bike commuters grew 9 percent last year to reach a record high. Whether you bike to work, or ride for fun and fitness, these five cities cater to cyclists.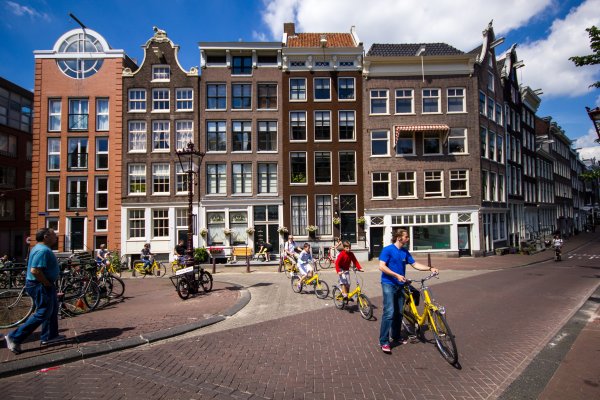 Minneapolis, Minn.
In 2010, Bicycling magazine raised eyebrows when it crowned Minneapolis the most bike-friendly city in the United States, a title Portland had claimed for years. The city's commitment to biking is impressive as the 5.7-mile Midtown Greenway and Midtown Bike Center cater to urban cyclists in the heart of downtown.
Minneapolis has more bike commuters than all but one U.S. city. There are 34 miles of street lanes, 56 miles of trails, and a robust public bike-sharing program. The city government recently approved a plan to guarantee bike access to every neighborhood by 2020.
Austin, Texas
Home to cycling legend Lance Armstrong, Austin takes its resident riders seriously. The city publishes a handy map of its bike paths, conveniently color-coded by difficulty and destination. Austin lacks the sheer numbers of Minneapolis and Portland, but its moderate year-round climate ensures a steady stream of cyclists on the road. Austin On Two Wheels, an online bike magazine, posts at least 10 rides or races each day, with over 35 cycling events every weekend. The city is reducing car lanes to make room for more bike lanes.
Portland, Ore.
Portland is America's original cycling city, with an extensive infrastructure of bike lanes for the 18 percent of residents who call a bike their primary or secondary mode of transportation. Portland's groundbreaking Create-a-Commuter program, which provides low-income residents with bikes, safety equipment, and cycling lessons, earned the city accolades from the League of American Bicyclists. Even novice cyclists are safe biking in the city because most busy intersections feature bike-only areas at traffic lights.
Washington, D.C.
The nation's capital upped its commitment to the cycling community with an ambitious public bike-sharing program. Capital Bikeshare, the largest program in the country, has over 2,500 bikes at 300 stations, free to any rider for the first 30 minutes, with economical packages for longer-term needs. The District continues to expand its Green Lane project, a protected bike lane program that already encompasses some of the most popular and heavily trafficked areas of the city.
Madison, Wis.
Madison, one of the nation's best places to live, gets a cycling thumbs-up for its dedicated community of biking enthusiasts. While most cities consider cycling in the snow a ridiculous idea, Madison has a snow-removal crew dedicated to the city's bike lanes and paths. Madison's B-Cycle, a public sharing program, provides 350 bikes at 35 stations. For true cycling enthusiasts, Madison hosts the annual Ironman Wisconsin triathlon. Its bike course is one of the most punishing in the United States, thanks to the grueling hills.
The trend toward bike-friendly cities has taken off all across America, and even the smallest towns are adding bike lanes and paths. These five cities are ahead of the curve and are some of the best places to live.
Jake McHenry is a travel enthusiast, blogger and family man (not necessarily in that order) living in the Chicago-area.